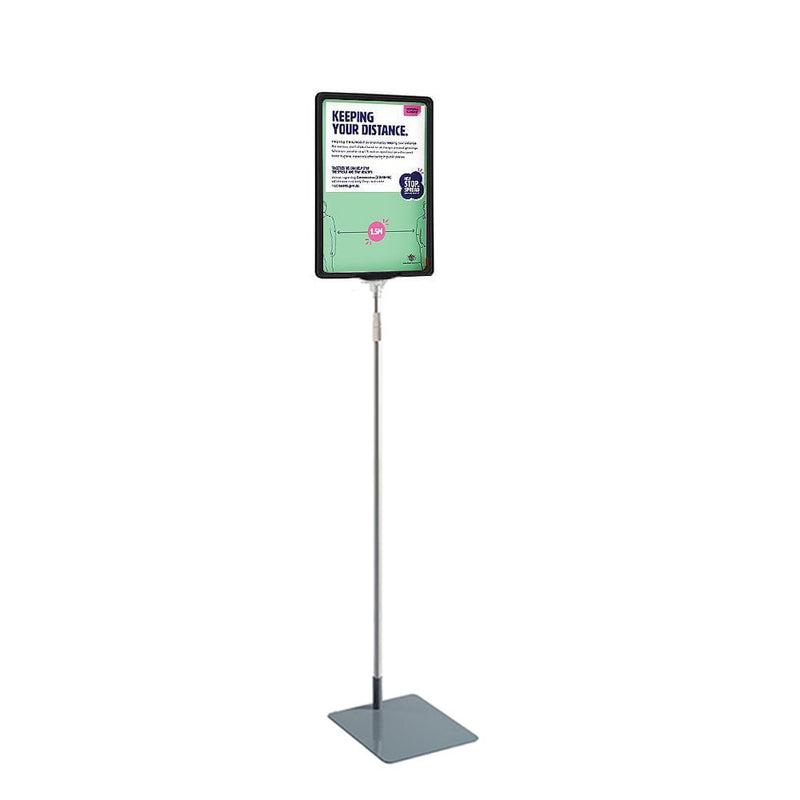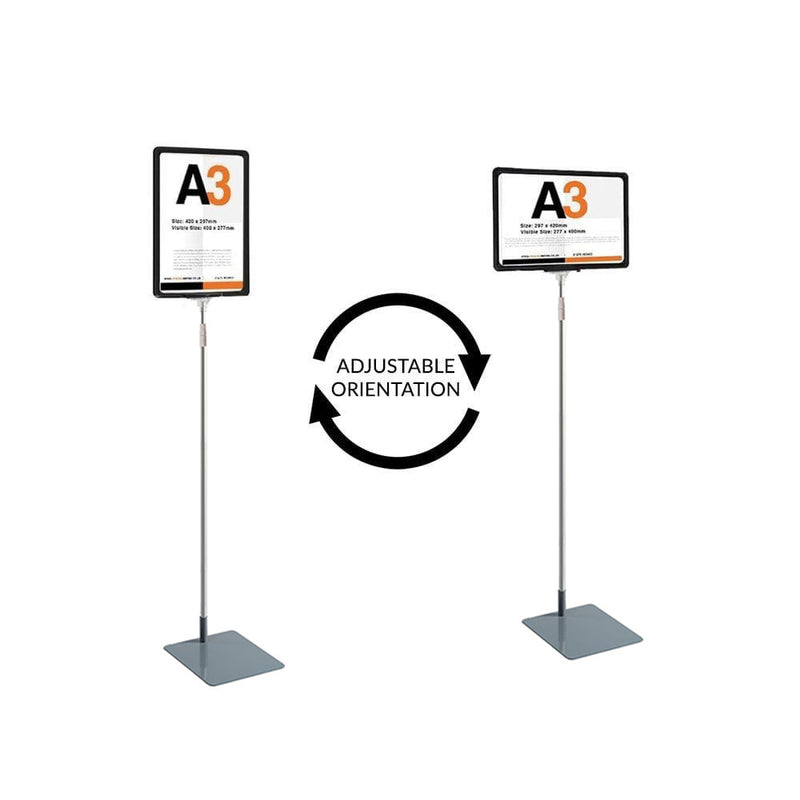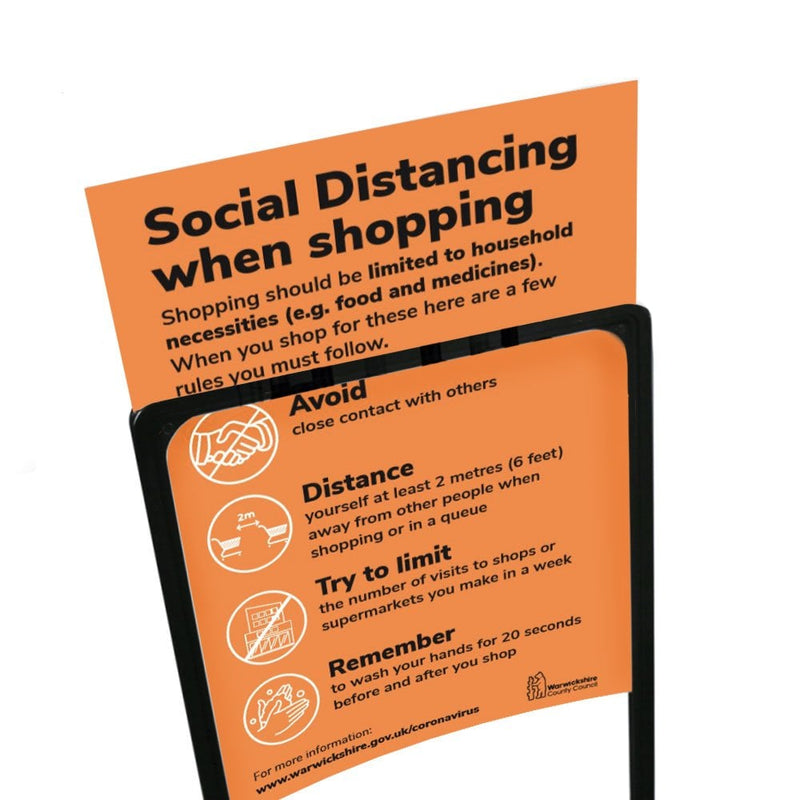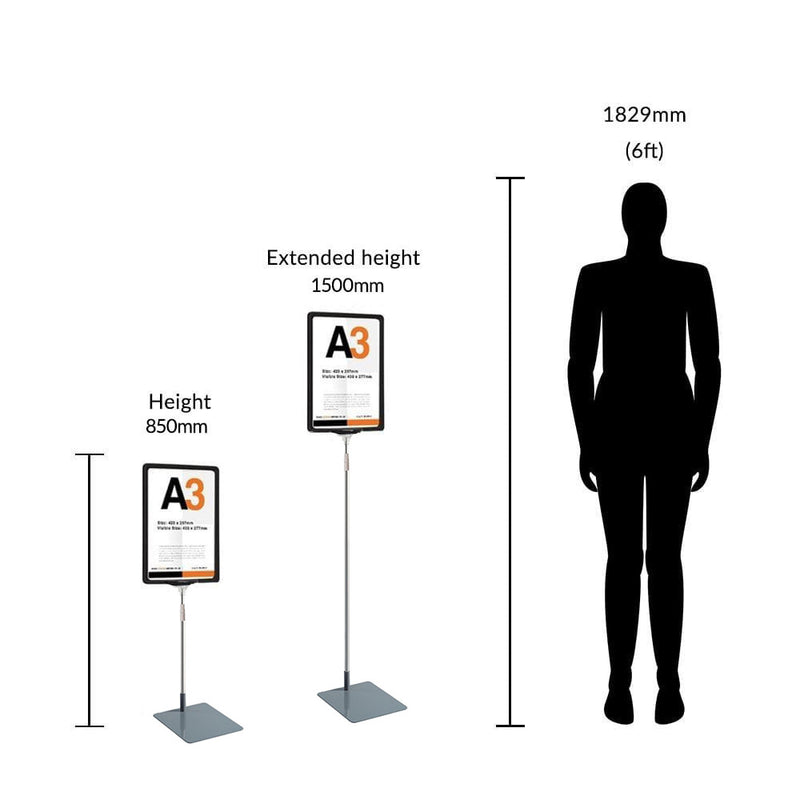 Black A3 Floor Standing Double Sided Poster Display Stand with Adjustable Height 800-1450mm
ARTWORK PRINTING AVAILABLE
Pre-order
£14.40
£12.00
(Inc VAT)
(Exc VAT)
---
Pre-order for dispatch. Commencing 12/12/23
Delivery Only £7.50 ex.VAT & FREE on orders over £125.00 ex.VAT*
Delivery estimated 3-5 working days at point of artwork approval
Request Bulk Quote
Dimensions:
Height: 850mm - 1500mm
Frame: A3 Poster

Features:
Dual-Angle Display: Supports A3 content with the flexibility to exhibit in either portrait or landscape mode.
Telescopic Adaptability: Features an adjustable telescopic pole, spanning from 800mm to 1450mm, to achieve your desired height.
Shatterproof Excellence: Fabricated from robust, shatterproof plastic, assuring long-term resilience.
Stable and Sleek: Powder-coated steel base promises unwavering support and a contemporary finish.
Indoor Display Specialist: Tailored specifically for indoor display scenarios, from showrooms to retail environments.
Space Efficiency: Ingeniously designed to be tucked under pallets, offering both stability and space-saving benefits.


Crafted with precision and versatility in mind, this double-sided A3 showcard stand is your perfect companion for showcasing literature indoors. It effortlessly accommodates A3 sized content, providing you with the choice of a portrait or landscape display. Durability is guaranteed through its shatterproof plastic construction, while the adjustable telescopic pole ensures your content gains optimal visibility. Anchored by a powder-coated steel base, it not only offers unparalleled stability but also a touch of modern aesthetics. Designed for showrooms, it's the go-to for presenting product information, pricing, or any other promotional content. The stand's thoughtful design allows for the base to be discreetly slid under pallets or units, seamlessly integrating into your showroom layout while maintaining stability. Elevate your display game with this innovative A3 showcard stand.
Looking to get artwork made to put in your literature display product? we offer a comprehensive online printing service. For full details check out our printing service page.
How it work
1. Either purchase your product and print cart add-on at the same time or purchase the print product as a standalone from our printing range . Once your order is placed, we will send you an email with clear instructions of the requirements for the artwork.
2. Read the artwork guide PDF to ensure all required criteria is met in order to be approved for printing. Artwork will be need to be approved for printing. (We can provide a design service at an additional cost based on quotation. Email help@displaysense.co.uk for design enquiries)
3. Reply to our email with your artwork. Once approved your document will be sent to print. After submission of your artwork, printing of your design and subsequent shipping to your address will be estimated between 3-5 workings days from approval point.
colour finish
Black
height
850-1500mm
hygiene sign type
Social Distancing Signs
material
Plastic,Steel
paper size
A3
sizes
A3
type
Floor Standing
You may also like
Related Products

Recently Viewed