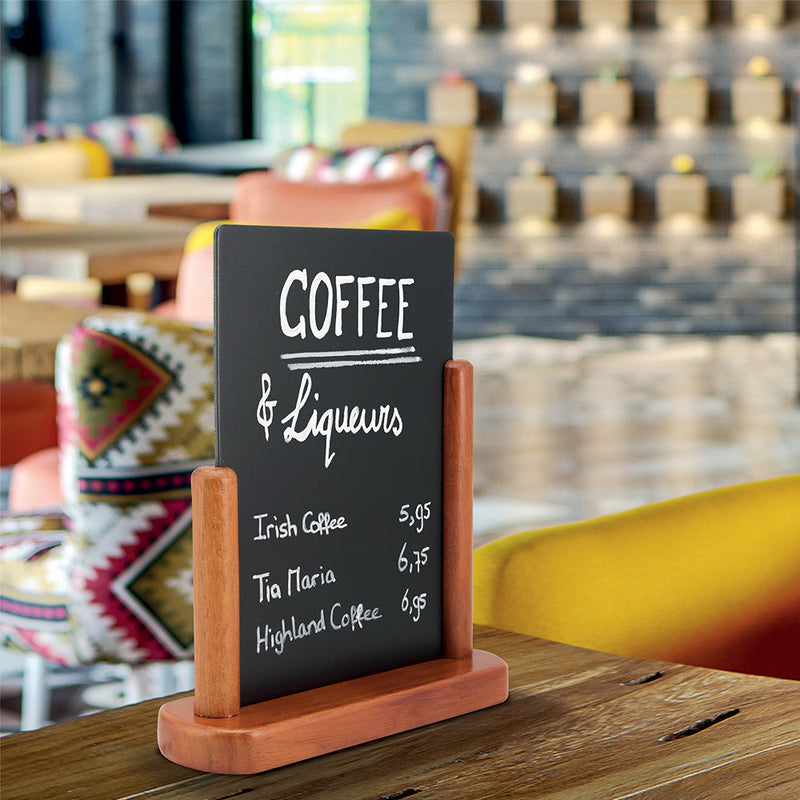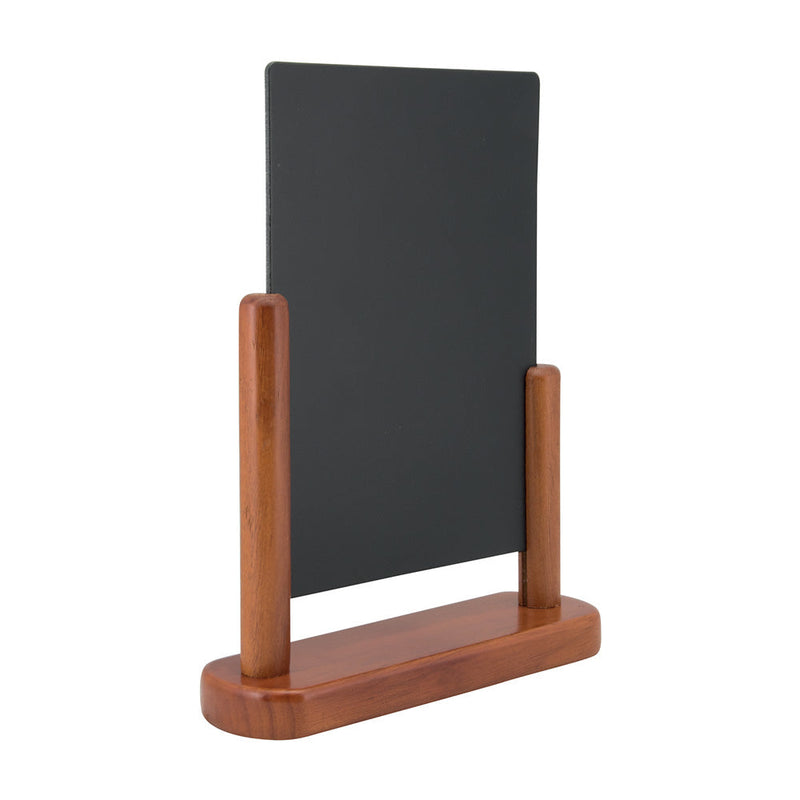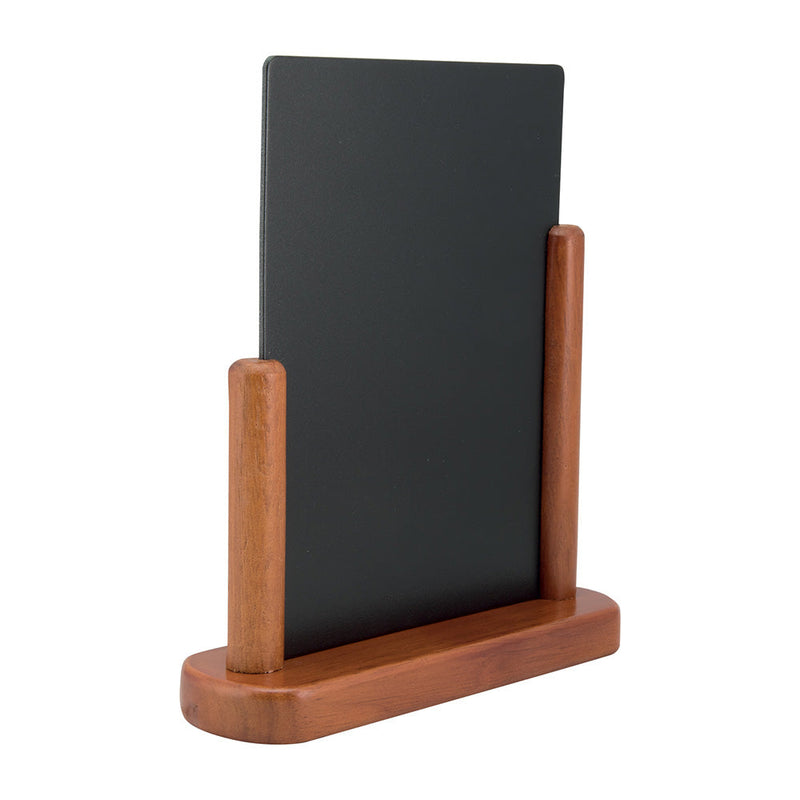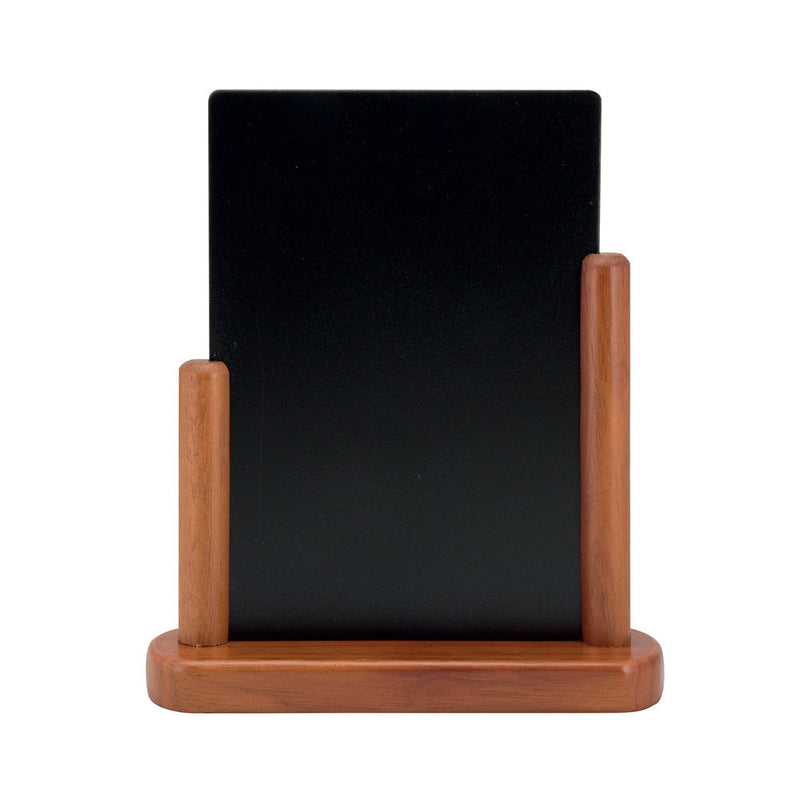 A5 Table-Top Menu Chalkboard with Dark Brown Lacquered Beechwood Stand
£24.00
£20.00
(Inc VAT)
(Exc VAT)
---
Delivery Only £7.50 ex.VAT & FREE on orders over £125.00 ex.VAT*
28 day hassle free returns available on all of our products
Request Bulk Quote
Dimensions:
Height: 235mm
Width: 200mm
Depth: 60mm


Features
Dynamic Display: Equipped with a double-sided A5 chalkboard, perfect for displaying ever-changing messages and advertisements
Elegant Design: Features a lacquered Beechwood holder with a sophisticated mahogany finish, adding a touch of elegance to any setting
Versatile Use: Crafted for both indoor and outdoor environments, offering great flexibility for various display needs
Stable and Stylish Base: Boasts a sturdy and fashionable base, ensuring the display remains stable in various conditions
Multi-Purpose Functionality: Ideal for showcasing specials, events, or menus, making it perfect for hospitality and retail sectors
Portable Convenience: Compact and easy to move, suitable for a wide range of hospitality environments such as cafes, bars, and restaurants
Discover the versatility and elegance of our tabletop chalkboard sign, a perfect addition to any hospitality setting. This double-sided A5 chalkboard, encased in a beautifully lacquered beechwood stand with a mahogany finish, is not just a functional item but also a statement piece. Its design complements any decor, making it an essential accessory for restaurants, cafes, or bars. The tabletop chalkboard with a stand is ideal for displaying daily specials, announcements, or welcoming messages.
This small tabletop chalkboard is as practical as it is attractive. Its compact size fits seamlessly on crowded tables, while the double-sided feature maximises visibility, ensuring that your messages capture the attention of your customers. The table top blackboard is designed for both indoor and outdoor use, offering flexibility in various settings. Whether you're a caterer, food truck owner, or restaurant manager, this tabletop blackboard is a must-have tool for effective, stylish communication.
depth
60mm
height
235mm
width
200mm
You may also like
Related Products

Recently Viewed