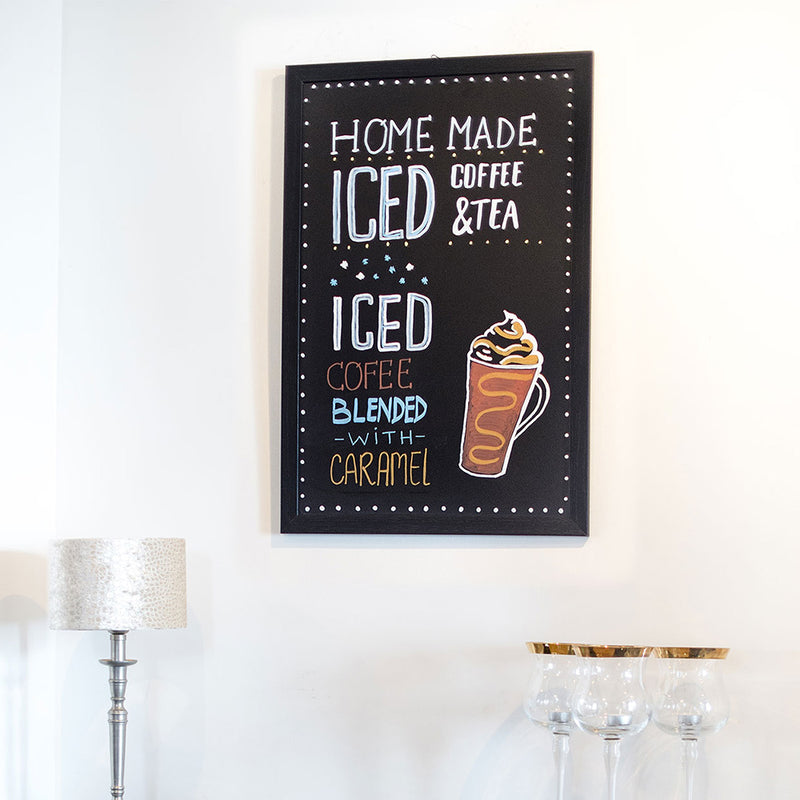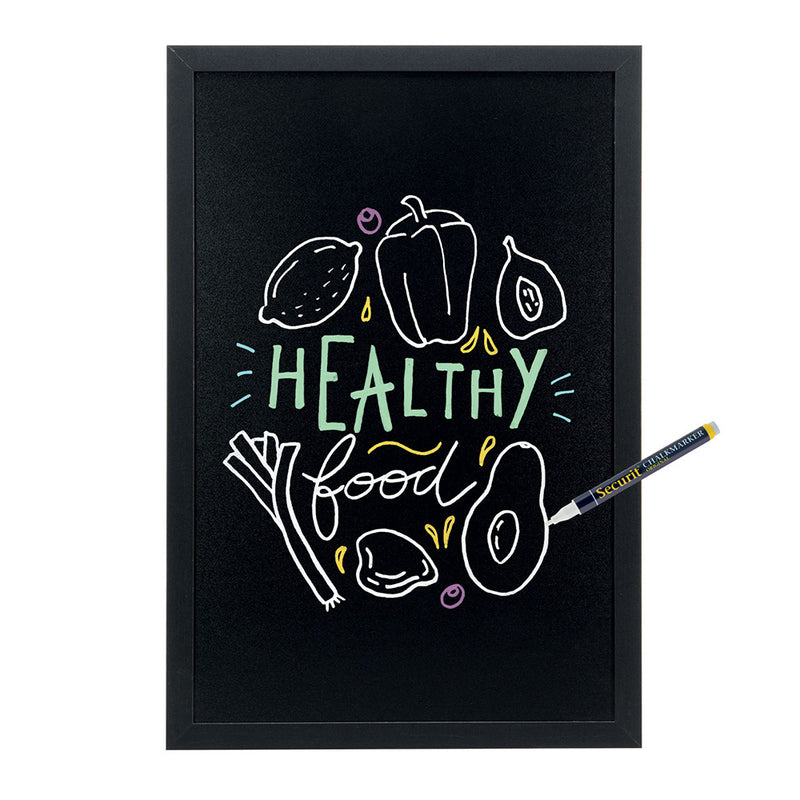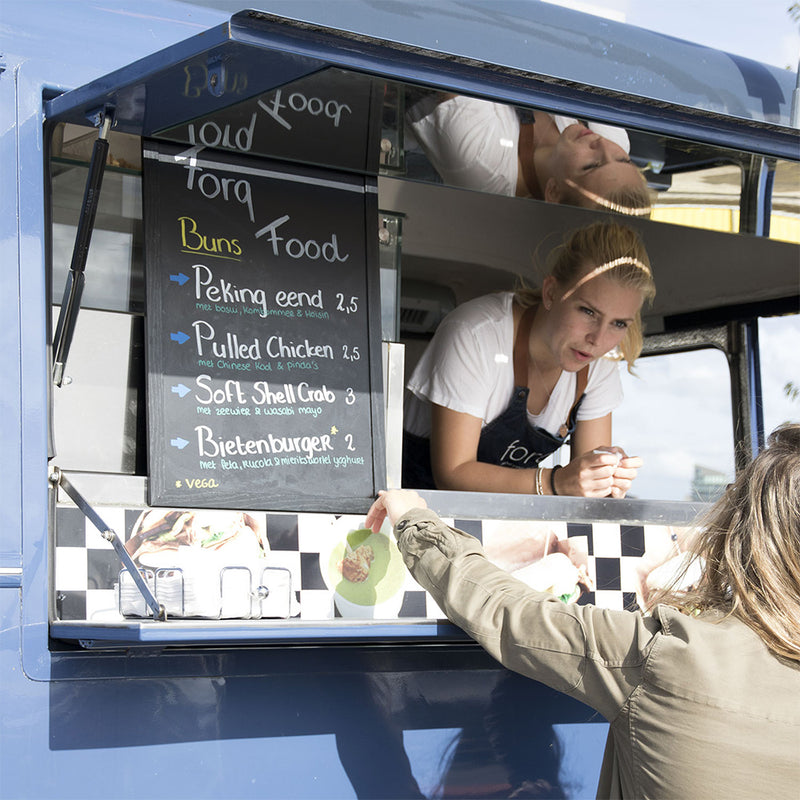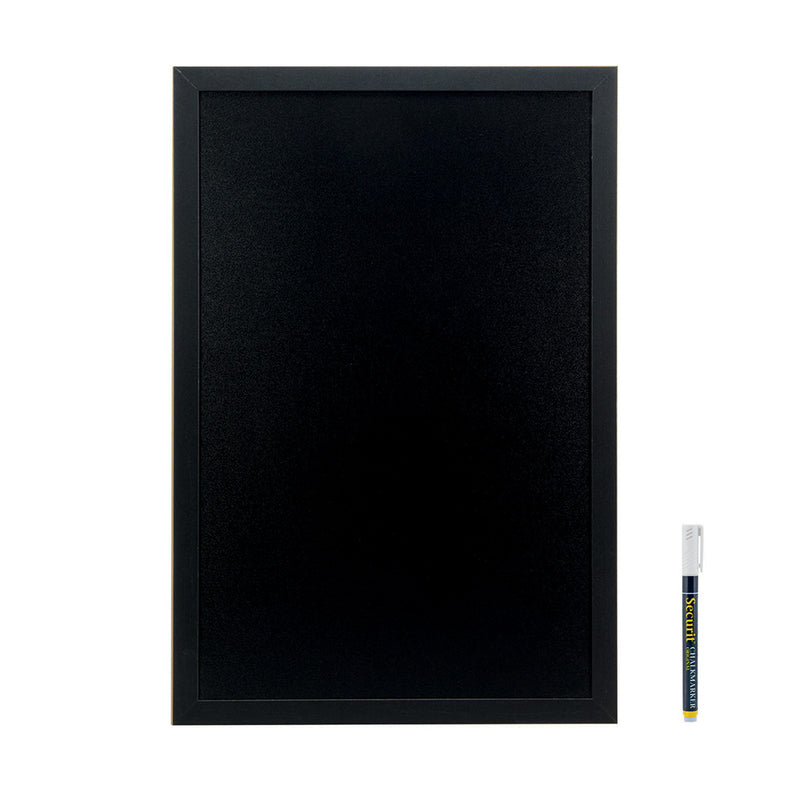 Double Sided Black Wood Framed Chalkboard with Wall Mounting Kit and Chalkboard Pen - 600mm x 400mm
£32.00
£26.67
(Inc VAT)
(Exc VAT)
---
Order Within , For Delivery On
Delivery Only £7.50 ex.VAT & FREE on orders over £125.00 ex.VAT*
28 day hassle free returns available on all of our products
Request Bulk Quote
Dimensions:
Height: 600mm
Width: 400mm
Depth: 10mm


Features
Optimal Writing Surface: This mounted chalkboard provides a generous writing area of 550 x 350mm, perfect for showcasing your creative content
Elegant Wooden Frame: A 50mm thick, black wooden style frame not only adds sophistication but also durability to this wall-mounted blackboard
Complete Set: Comes with a chalk pen and a comprehensive wall mounting kit, ensuring easy installation and immediate use
Stylish and Innovative Design: The black wooden style frame of this wall mounted chalk board makes it an emblem of innovation and creativity, blending seamlessly into any decor
Engaging and Versatile: Ideal for sharing offers, promotions, or enticing product descriptions, this board enhances your communication with customers
Dual-Sided Usage: Its dual-sided surface maximises usage and creativity, offering more space for your messages and art
Introducing our Wall Mounted Blackboard, an epitome of elegance and functionality, designed to revolutionise how messages and promotions are displayed. With a generous writing surface measuring 550 x 350mm, this chalkboard offers ample space for creativity and effective communication. The board's black wooden style frame, 50mm in thickness, not only exudes sophistication but also promises durability and longevity. Whether it's to highlight daily specials in a café, share important announcements in an office, or simply to add a decorative touch to any room, this wall hanging chalkboard seamlessly integrates into any setting, making it a versatile addition to your space.
This chalkboard is more than just a writing surface; it's a canvas for your imagination. It comes complete with a chalk pen and a wall mounting kit, ensuring a hassle-free installation process. The dual-sided feature of the board maximises its utility, allowing you to flip and use both sides for different messages or artworks. Perfect for those who value both aesthetics and functionality, this wall mounted chalk board stands as an innovative and practical solution for all your indoor promotional needs. Its ability to blend into various environments, coupled with its ease of use, makes it an ideal choice for businesses and homes alike.
depth
10mm
height
600mm
width
400mm
You may also like
Related Products

Recently Viewed