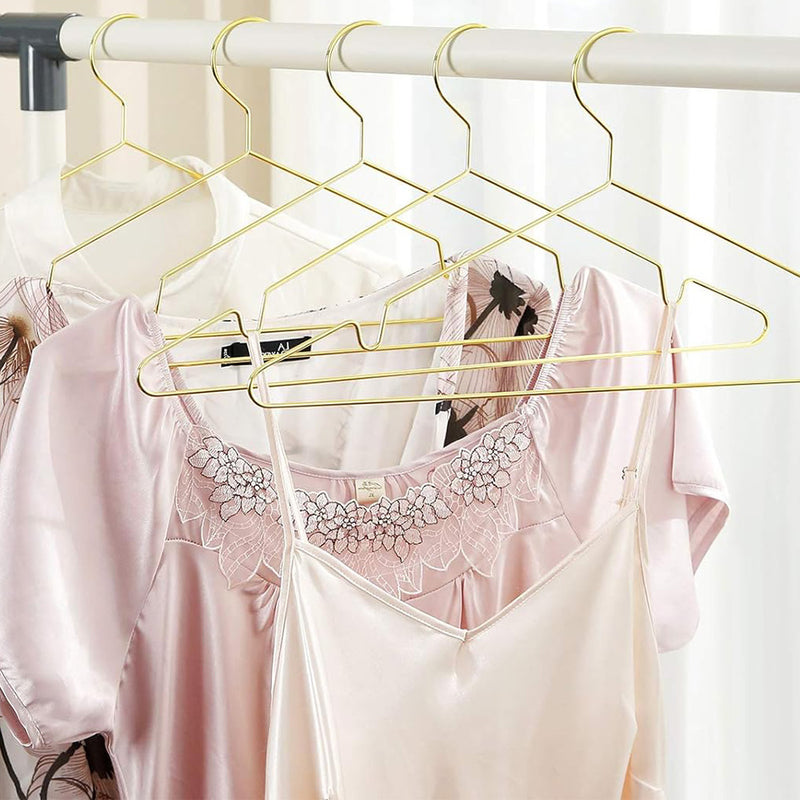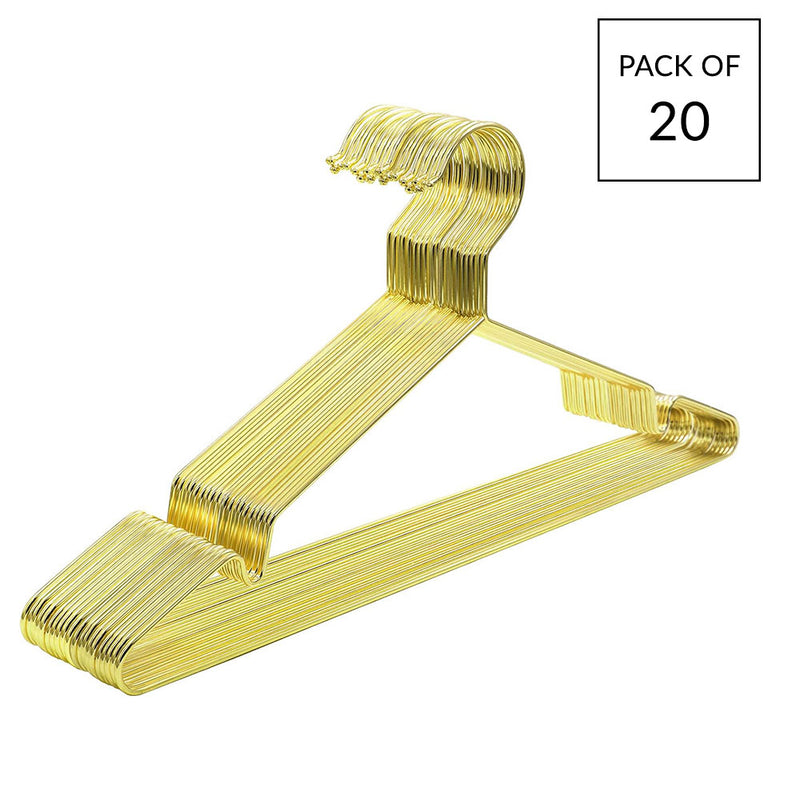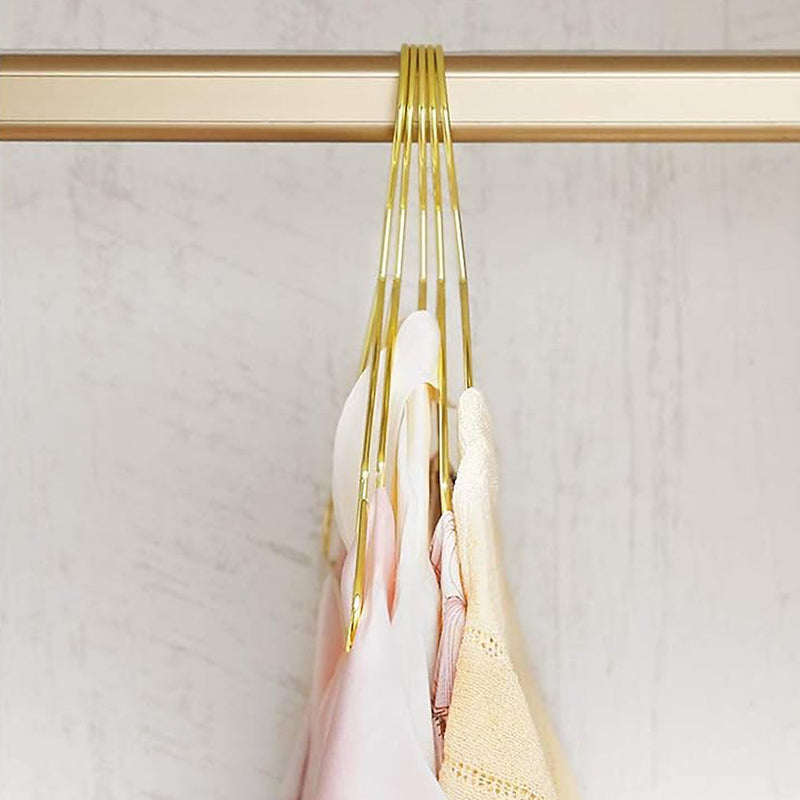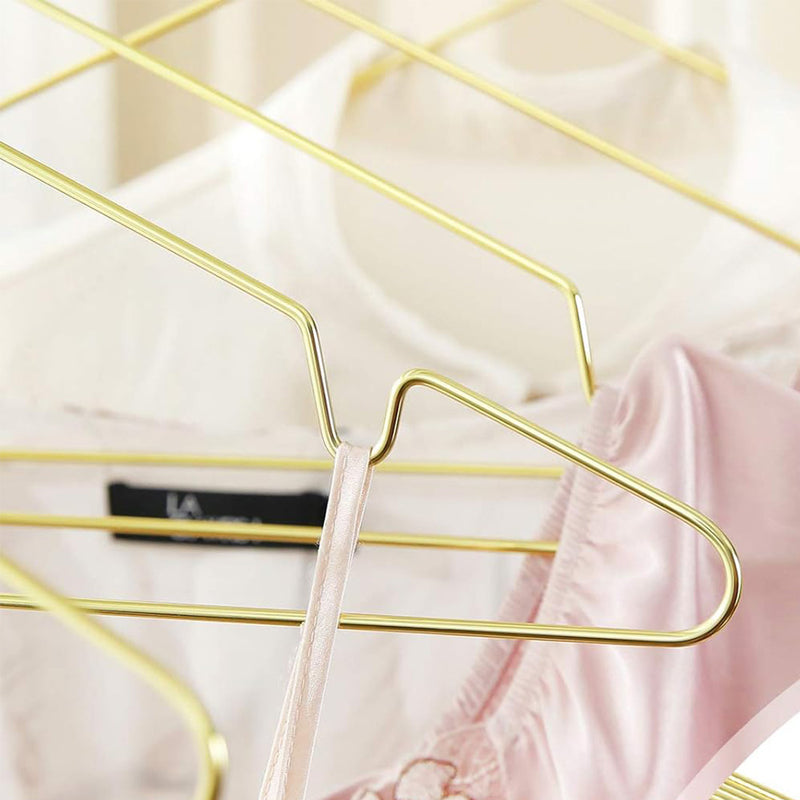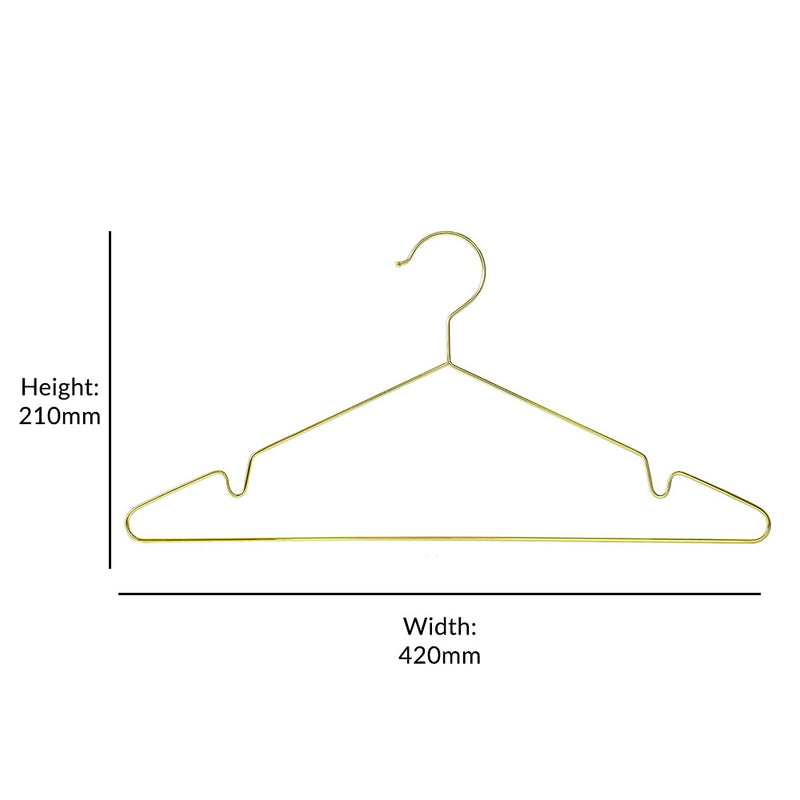 Pack of 20 Gold Space-Saving Metal Hangers
£25.00
£20.83
(Inc VAT)
(Exc VAT)
---
Pre-order for dispatch. Commencing 22/12/23
Delivery Only £7.50 ex.VAT & FREE on orders over £125.00 ex.VAT*
28 day hassle free returns available on all of our products
Request Bulk Quote
Dimensions:
Height: 210mm
Width: 420mm
Depth: 3mm


Features
Modern Aesthetic: Boasts a shiny gold finish, offering a bright and contemporary look
Robust Build: Constructed with chromium-coated metal for enhanced durability and resistance to rust
Slip-Resistant Design: Equipped with special grooves to prevent clothes from slipping off
Space-Saving Profile: Features an ultra-thin design, just 0.3 cm thick, maximising wardrobe space efficiency
Versatile Use: Ideal for hanging a variety of garments, including T-shirts, trousers, and dresses
Multi-Purpose Functionality: Suitable for both wardrobe storage and air-drying wet clothes
Introducing our pack of 20 gold space-saving metal hangers, the perfect blend of style and functionality for your wardrobe. These hangers combine simplicity, minimalism, and practicality, bringing a shiny golden surface that adds a touch of elegance and brightness to any space. Made of robust metal and coated with chromium, these wire hangers offer outstanding durability and rust resistance, ensuring long-lasting use.
Each hanger features specially designed grooves to protect your clothes from falling, making them suitable for a variety of garments such as scarves, dresses, T-shirts, trousers, and hoodies. Their extra fine construction, only 0.3 cm thick, allows for efficient use of space in your wardrobe, helping you organise your clothes neatly and avoid wrinkles. These space-saving hangers are not only ideal for hanging dry clothes but also for air-drying wet garments, making them a versatile addition to your home. Incorporate these metal coat hangers into your daily routine for an efficient and elegant clothes hanging storage solution.
depth
3
height
210
material
Metal
width
420
You may also like
Related Products

Recently Viewed