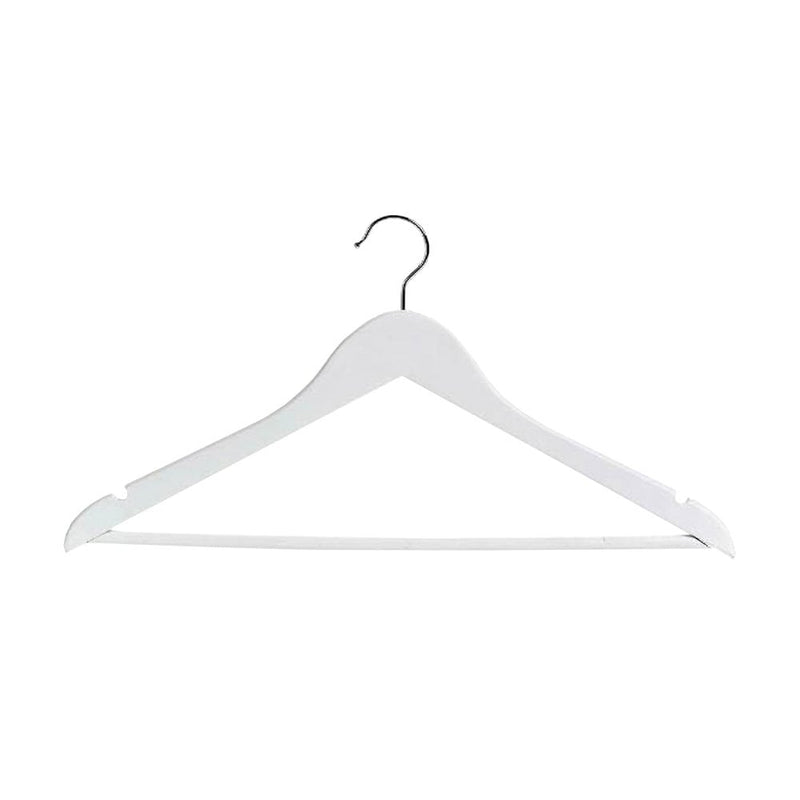 White Wooden Clothes Hanger with Trouser Bar - 44cm
£36.00
£30.00
(Inc VAT)
(Exc VAT)
---
Delivery Only £7.50 ex.VAT & FREE on orders over £125.00 ex.VAT*
28 day hassle free returns available on all of our products
Request Bulk Quote
Dimensions :
Length:440mm


Features
Modern White Wooden Hangers: A pack of 25 sleek and stylish white wooden clothes hangers, perfect for a contemporary wardrobe
Additional Trouser Bar: Each hanger includes a convenient bar for hanging trousers, maximising space and functionality
Shoulder Strap Notches: Designed with notches on each arm, these hangers are ideal for securely holding dresses and other shoulder strap garments
Space-Saving Design: The flat arms of these hangers allow for more garments to be fitted onto a clothes rail, optimising storage space
Durable Construction: Crafted from robust materials, these hangers promise longevity and resilience in everyday use
Versatile Use: Suitable for both business and home settings, these hangers are an ideal choice for retailers or anyone seeking a practical yet attractive solution for garment storage
Discover the elegance and functionality of our modern white wooden clothes hangers, available in a pack of 25. These hangers are not just a means to display and promote your clothing but also a sophisticated solution for safe storage. The inclusion of an additional trouser bar on each hanger adds versatility, allowing you to hang full suits and outfits with ease, including folded legwear. The unique design features notches on the arms, ensuring secure hanging of dresses and shoulder strap items.
The space-saving flat arms of these wooden coat hangers mean you can fit more onto your clothes rail, making them a highly efficient choice. Their durable construction ensures they can withstand the demands of everyday use, making them a long-lasting addition to any wardrobe. The chic, modern appearance of these white wooden hangers, along with their practical design, makes them a popular choice for businesses, retailers, and homeowners alike.
Ideal for anyone looking for wooden trouser hangers, these multifunctional pieces serve as more than just a simple storage option. They are an embodiment of style and practicality, perfect for anyone looking to enhance their garment display and storage. Whether for your home or business, these wooden clothes hangers are an exemplary choice, combining aesthetics with functionality.
colour finish
White
material
Wood
sizes
440mm
type
Dress Hangers
width
440mm
You may also like
Related Products

Recently Viewed