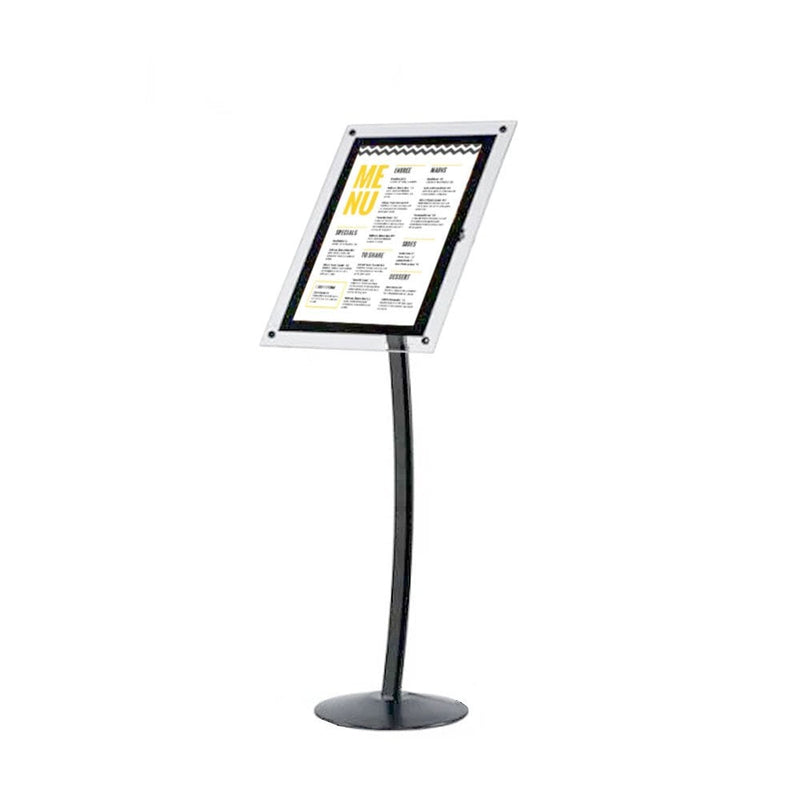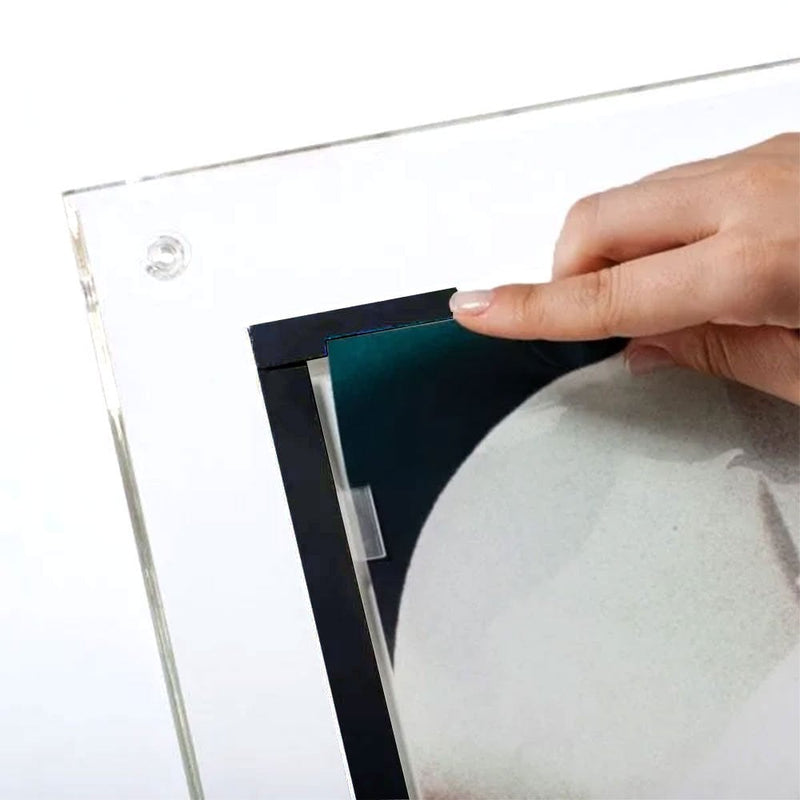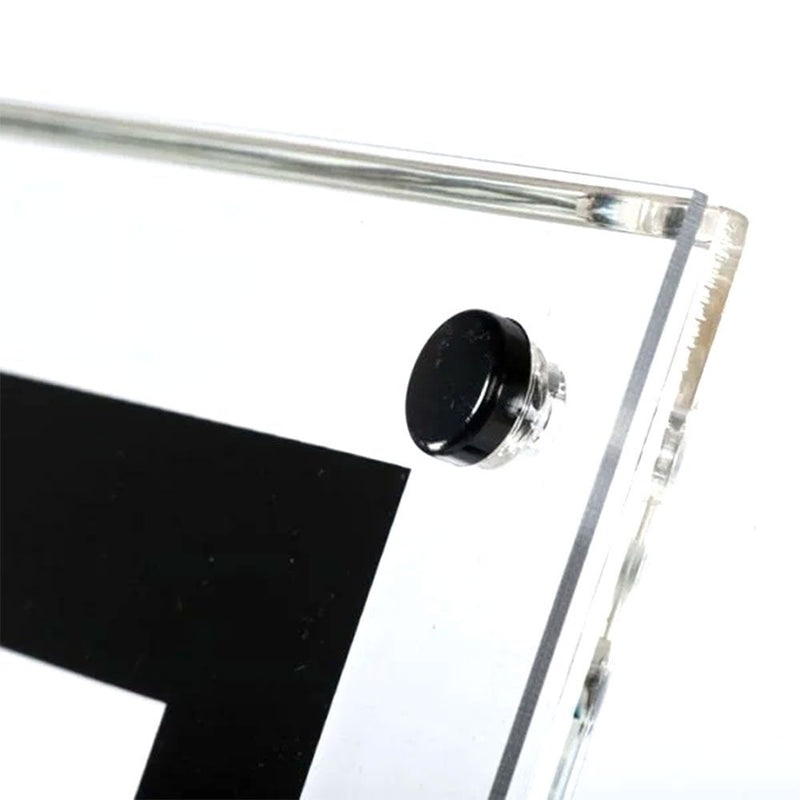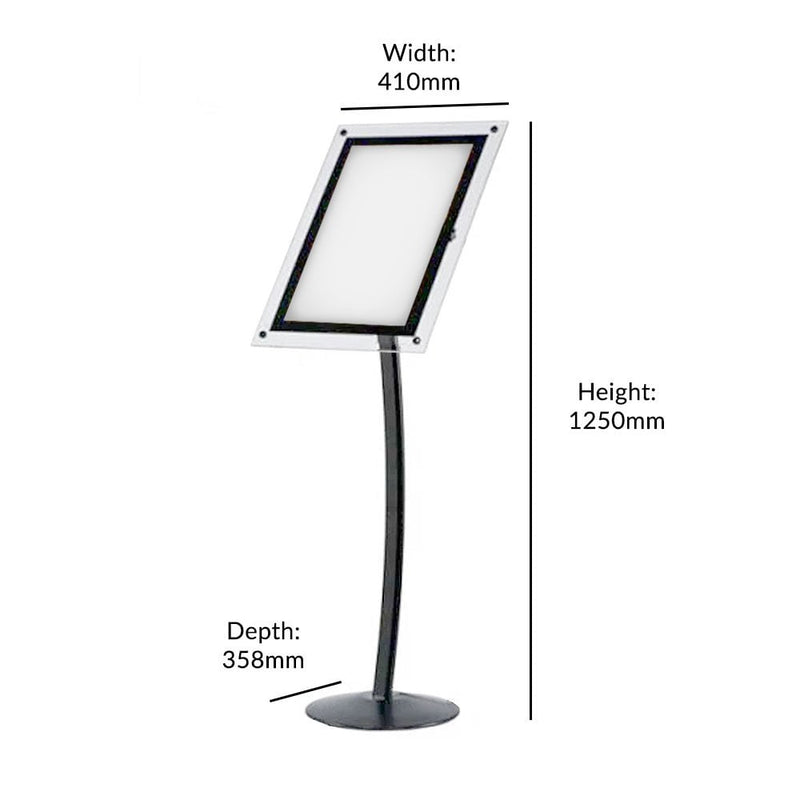 A3 LED Floor Standing Black Curved Aluminium Poster Display Stand - 1250mm Tall
ARTWORK PRINTING AVAILABLE
Pre-order
£274.00
£228.33
(Inc VAT)
(Exc VAT)
---
Pre-order for dispatch. Commencing 10/01/24
Delivery Only £7.50 ex.VAT & FREE on orders over £125.00 ex.VAT*
Delivery estimated 3-5 working days at point of artwork approval
Request Bulk Quote
Dimensions:
Height: 1250mm
Width: 410mm
Depth: 358mm


Features
Illuminated Poster Display: Features an LED border that highlights your poster, ensuring visibility in any lighting condition
Black Aluminium Stand: A sleek black stand crafted from durable aluminium, perfect for high-traffic areas
Adaptive Presentation: Can accommodate A3 size posters and can be set up in either landscape or portrait orientation
Inform and Advertise: Designed to catch the eye, making it ideal for both informational and promotional displays
LED Sign Holder: The integrated LED lighting turns this into more than just a poster holder; it's a vibrant display that captivates
Flexible Use: Appropriate for a range of environments, from retail spaces to exhibitions, enhancing your message's visibility
Brighten up your promotions and announcements with our state-of-the-art LED display poster. This exquisite poster LED display is the perfect fusion of elegance and functionality, crafted to stand out in the busiest of settings. Made from high-quality black aluminium, the stand boasts not only a robust construction but also a contemporary aesthetic that blends seamlessly into any environment. Whether it's for informing customers or advertising your latest offerings, this illuminated poster display acts as a beacon, drawing in viewers with its radiant LED border.
Versatility is at the core of this LED poster displays design, with the ability to hold A3 size posters in both landscape and portrait formats. This flexibility allows for a quick adaptation to your changing promotional needs without compromising on visibility or style. The LED sign holder is an ideal solution for businesses looking to create an impact; it illuminates your message with clarity, ensuring that it's not only seen but remembered. Even as daylight fades, your message will continue to shine, making it a powerful tool for all-day advertising.
Looking to get artwork made to put in your literature display product? we offer a comprehensive online printing service. For full details check out our printing service page.
How it work
1. Either purchase your product and print cart add-on at the same time or purchase the print product as a standalone from our printing range . Once your order is placed, we will send you an email with clear instructions of the requirements for the artwork.
2. Read the artwork guide PDF to ensure all required criteria is met in order to be approved for printing. Artwork will be need to be approved for printing. (We can provide a design service at an additional cost based on quotation. Email help@displaysense.co.uk for design enquiries)
3. Reply to our email with your artwork. Once approved your document will be sent to print. After submission of your artwork, printing of your design and subsequent shipping to your address will be estimated between 3-5 workings days from approval point.
colour finish
Black
height
1250mm
material
Acrylic,Aluminium
paper size
A3
sizes
A3
width
410mm
You may also like
Related Products

Recently Viewed