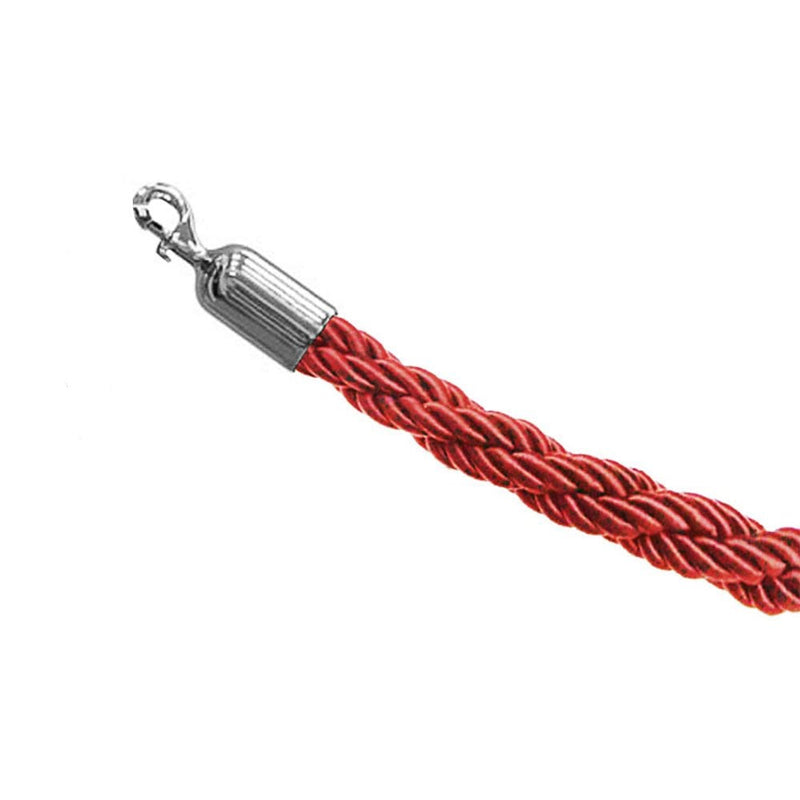 Red Twister Rope Barrier with Chrome Snaps
£18.00
£15.00
(Inc VAT)
(Exc VAT)
---
Delivery Only £7.50 ex.VAT & FREE on orders over £125.00 ex.VAT*
28 day hassle free returns available on all of our products
Request Bulk Quote
Dimensions:
Rope Length: 1500mm

Features:
Vivid Red Design: Eye-catching red twisted rope, ideal for creating a striking visual impact in crowd control setups
Chrome Snap Ends: Comes with elegant chrome-plated snap ends that easily attach to barrier posts or wall-mounted plates, suitable for both indoor and outdoor use
Durable with Foam Core: Constructed with a foam inner core, this rope maintains its shape and resilience, perfect for busy environments
1.5m Length: The rope extends to a length of 1.5 meters, providing ample distance for effective crowd control and queue management
Luxury Appearance: The red twisted rope not only functions efficiently but also adds a luxurious touch to any setting, enhancing the aesthetic appeal
Flexible Application: Ideal for a wide range of settings such as events, queues, and exhibitions, offering easy removal and reattachment as needed
This 1.5m red twisted rope barrier is a blend of style and functionality, perfect for managing crowds and queues with a touch of elegance. It features a robust foam inner core and is adorned with chrome-plated snap ends, ensuring both durability and ease of use. Suitable for a variety of environments, this rope barrier is part of our affordable Q-Line range and is designed for quick attachment to barrier posts or wall-mounted plates. Its vibrant red colour and luxurious look make it an ideal choice for venues that require both practicality and aesthetic appeal in their crowd control and queue management solutions.
accessories
Ropes
barrier type
Rope Barrier
colour finish
Red
height
40mm
material
Rope
post colour
Chrome
sizes
1500mm
strap colour
Red
You may also like
Related Products

Recently Viewed