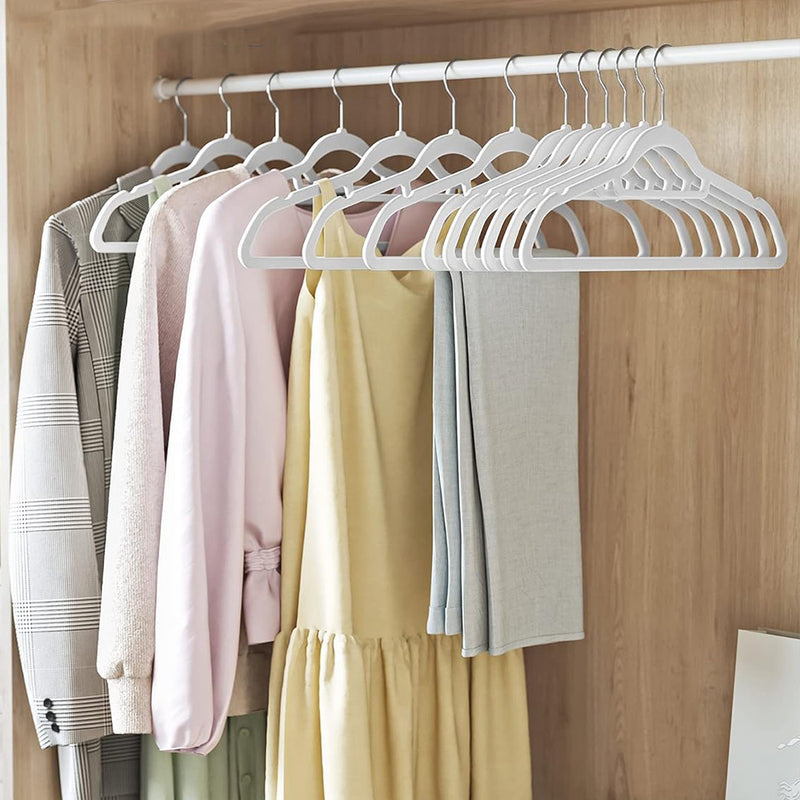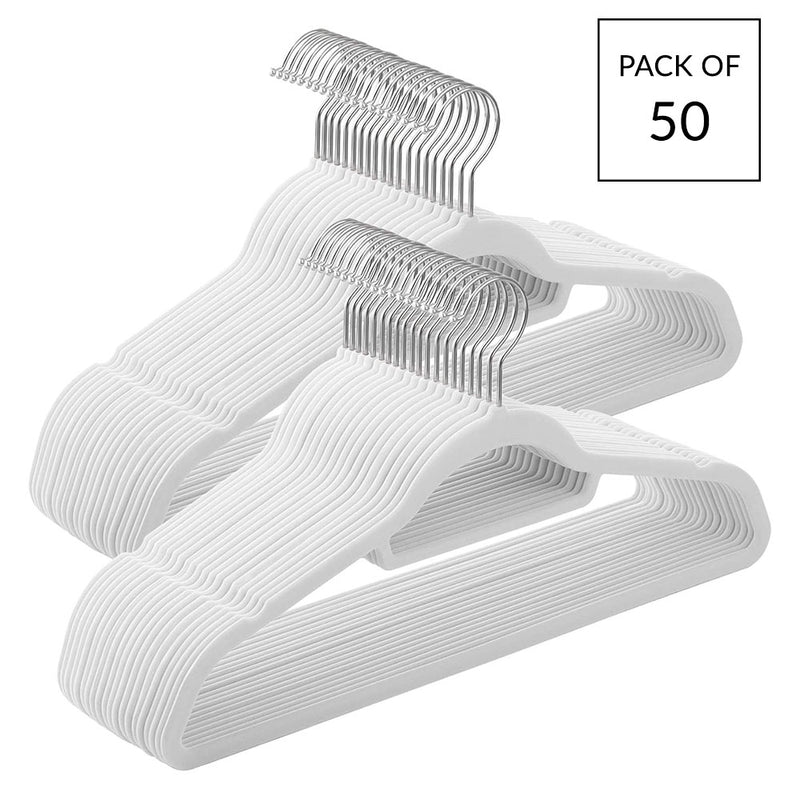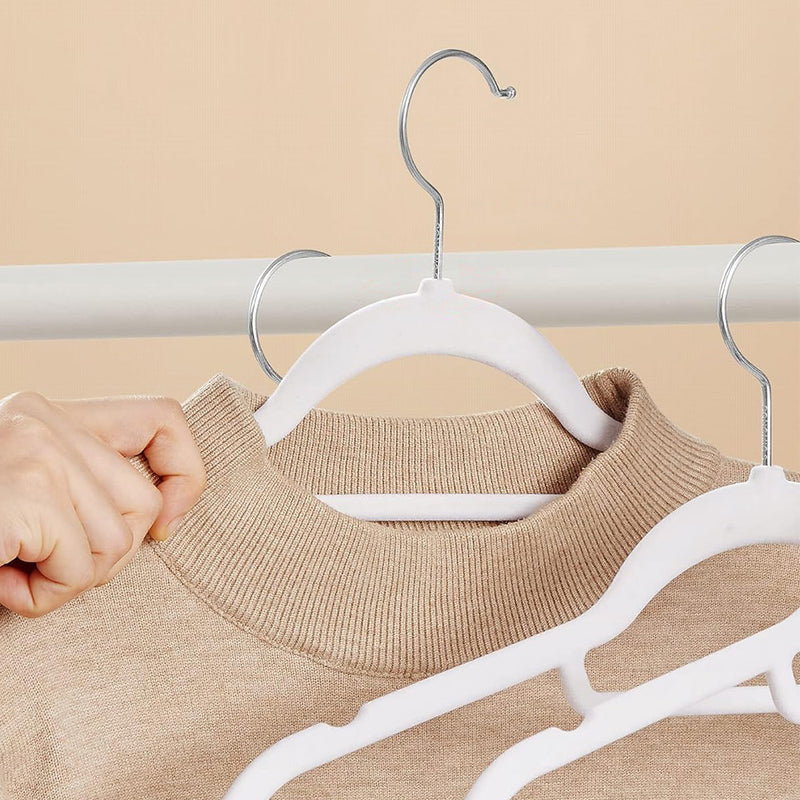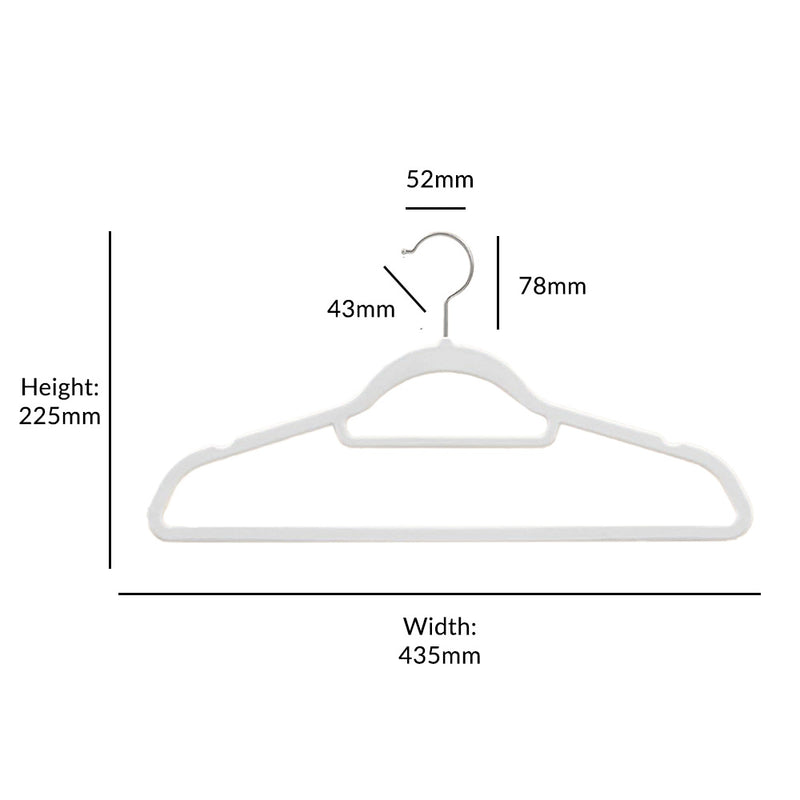 Pack of 50 Non-Slip White Velvet Hangers
£39.00
£32.50
(Inc VAT)
(Exc VAT)
---
Delivery Only £7.50 ex.VAT & FREE on orders over £125.00 ex.VAT*
28 day hassle free returns available on all of our products
Request Bulk Quote
Dimensions:
Height: 235mm
Width: 450mm


Features
Velvet Surface: Enhances grip to prevent items from sliding off, ideal for holding delicate fabrics like silk shirts
Durable Material: Made of tough ABS plastic, each hanger can hold up to 5 kg, making them suitable for heavy garments such as winter coats
Space-Saving Design: The slim structure maximises wardrobe space, featuring a central bar for accessories like scarves or ties
Rotating Hooks: 360° rotating hooks in a shiny silver finish, adding functionality and a stylish touch to your closet
High-Quality Set: A set of 50 non-slip white velvet hangers, blending durability and elegance for effective clothing storage
Non-Slip Grooves: Carefully positioned on the shoulders to keep clothes in place, these hangers are essential for any well-organised wardrobe
Introducing our latest solution for a clutter-free wardrobe: the Pack of 50 Non-Slip White Velvet Hangers. These hangers are not just a practical choice for hanging clothes storage; they are a statement of style and functionality. The plush velvet surface of each hanger is designed to increase friction, ensuring that even the most delicate silk shirts stay securely in place, thanks to the anti-slip grooves on the shoulders. This feature makes these hangers a perfect choice for anyone looking to keep their garments in pristine condition.
Constructed from sturdy ABS plastic, these white hangers are slim yet incredibly strong, each capable of holding up to 5 kg. This makes them suitable for a range of clothing, from lightweight summer dresses to bulky winter coats. The sleek design is not only space saving but also adds an aesthetic appeal to your closet. The shiny silver hooks at the top of each hanger can rotate 360 degrees, making it easier to hang clothes at any angle. Whether you are revamping your wardrobe or simply looking for a more efficient way to store your clothes, these velvet hangers are an ideal choice for anyone valuing both elegance and practicality.
height
235
material
Plastic, Velvet
width
450
You may also like
Related Products

Recently Viewed