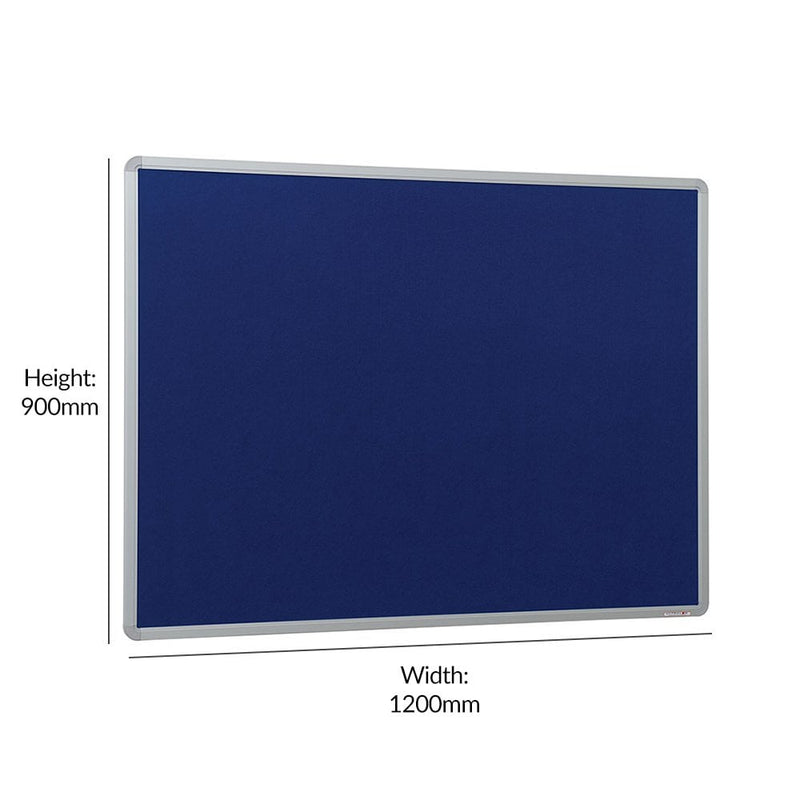 Dark Blue Felt Noticeboard - Aluminium Frame 1200 x 900mm
£68.40
£57.00
(Inc VAT)
(Exc VAT)
---
Order Within , For Delivery On
Delivery Only £7.50 ex.VAT & FREE on orders over £125.00 ex.VAT*
28 day hassle free returns available on all of our products
Request Bulk Quote
Dimensions:
Width: 1200mm
Height: 900mm

Features:
Streamlined Design: A dark blue 1200mm felt notice board encased in a sleek anodised aluminium frame, perfect for enhancing office aesthetics
Flexible Orientation: Can be mounted in both portrait and landscape positions to accommodate your specific office notice board needs and wall dimensions
Discreet Installation: Equipped with concealed corner fixings with snap-on covers, ensuring a tidy and secure placement on any wall notice board area
Safety Compliant: The fire-rated felt cover is suitable for pins and is approved by the Department for Education, making it ideal for use in corridors and stairwells
Easy Setup: All fixings required to mount the noticeboard are supplied, making installation straightforward and hassle-free
Versatile Application: Optimal for office environments, meeting areas, staff rooms, and more; this notice board for the office is both practical and compliant with safety standards
Crafted for both functionality and style, this noticeboard measures 1200mm x 900mm and is enveloped in a dark blue felt that not only captures attention but also meets the rigorous safety standards set by the Department for Education. Whether it's for an office notice board, a focal point in meeting areas, or for keeping staff rooms organised, its adaptable design allows for both portrait and landscape mounting to fit the available wall space seamlessly.
Ensuring a professional look with its anodised aluminium frame, this wall notice board integrates effortlessly into any decor. The concealed corner fixings with their snap-on covers make for a clean presentation, free from unsightly screws and attachments, maintaining the board's sleek appearance while securing it firmly in place.
Installation is straightforward; this notice board comes complete with all the necessary fixings, ensuring you can have it ready for use without any undue delay. The fire-rated felt surface not only enhances safety - particularly important in escape routes such as corridors and stairwells - but also allows for frequent re-pinning of notices without wear.
Ideal for offices looking for a functional and elegant solution, this noticeboard is the perfect choice for those in need of a reliable, safe, and easy-to-install option for displaying important information and updates.
colour finish
Blue
frame size
1200 x 900mm
height
900mm
material
Felt
noticeboard type
Aluminium Frame
sizes
1200 x 900mm
width
1200mm
You may also like
Related Products

Recently Viewed