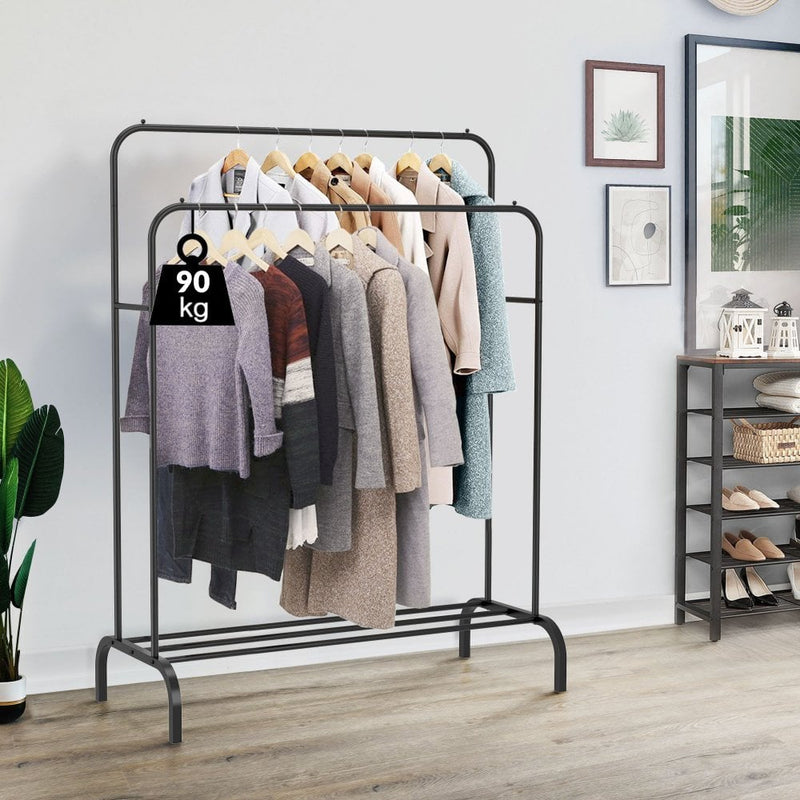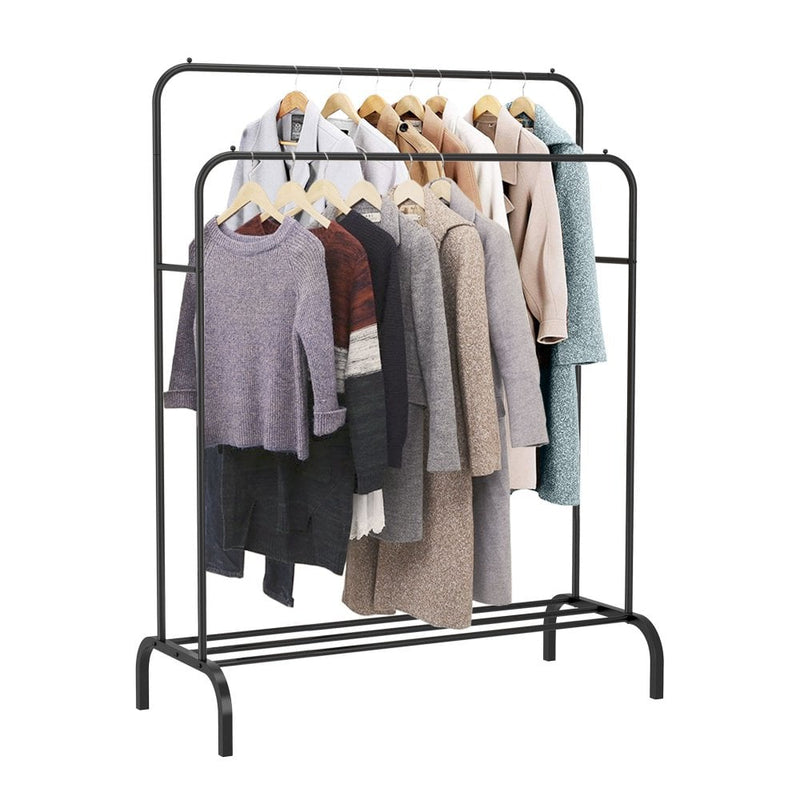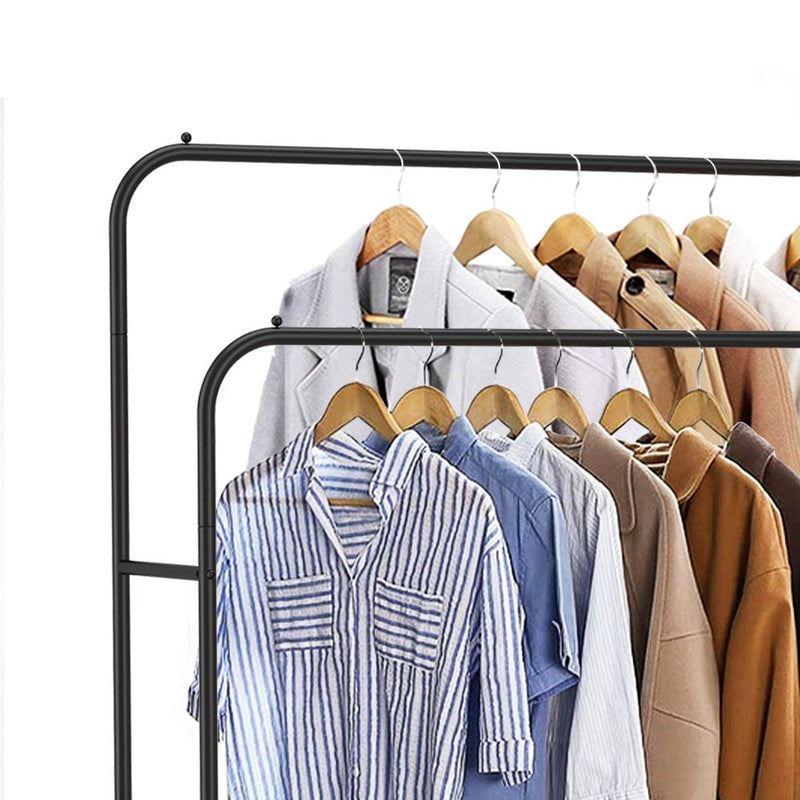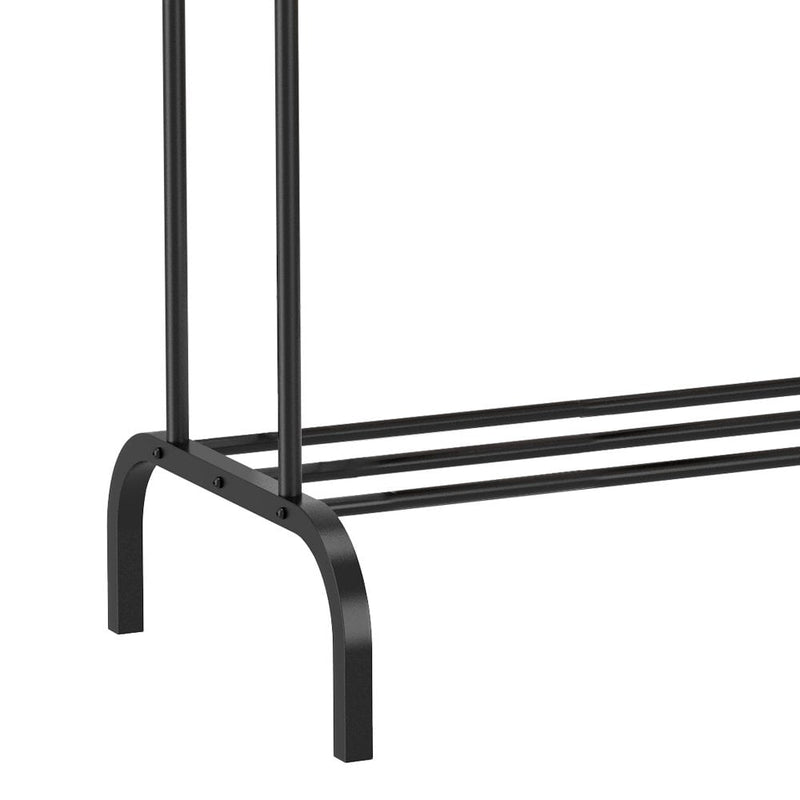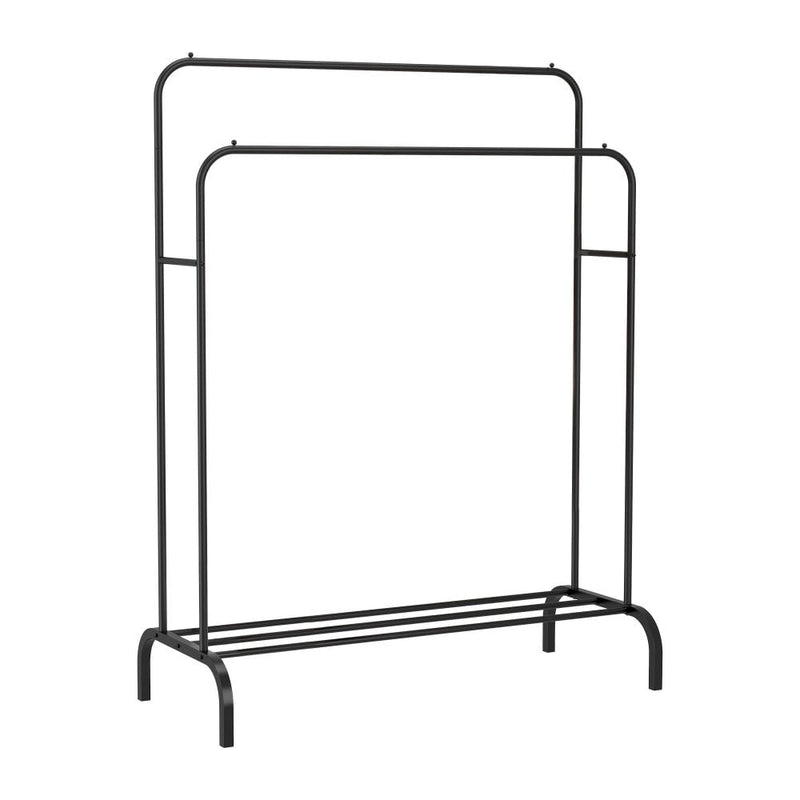 Black Double Rail Metal Clothes Rail And Shelf With 90kg Load Capacity 1150mm Width
£12.00
£10.00
(Inc VAT)
(Exc VAT)
---
Delivery Only £7.50 ex.VAT & FREE on orders over £125.00 ex.VAT*
28 day hassle free returns available on all of our products
Request Bulk Quote
Dimensions:
Height: 1500mm(4.9ft)
Width: 1150mm
Depth: 500mm


Features
Dual Storage Rails: This heavy-duty clothes rail features a fixed double clothes rack, offering twice the storage space of a standard clothes rail in a single unit
Industrial-Grade Construction: Built with an industrial-grade lightweight metal frame, this heavy-duty clothes rack ensures high strength and durability, supporting a substantial weight capacity of up to 90kg
Optimised for Longer Garments: The taller back rail accommodates longer items such as coats, dresses, and unfolded trousers, ensuring they hang without creasing
Extra Storage Shelf: An additional bottom shelf provides ample space for footwear, bags, and accessories, enhancing the functionality of this industrial clothing rack
Design and Stability: Stylish curved rail bars with top bar stoppers prevent items from slipping off, while support bars between storage rails add extra stability and can be used to hang accessories like ties, belts, and scarves
Simple Assembly: Quick and straightforward to assemble, this retail clothing rack comes with provided instructions
Looking to improve your bedroom's clothes storage capacity or to expand your wardrobe? This black double clothing rack is the ideal solution to meet your garment storage needs. The clothing storage rail is made from high-grade lightweight steel, providing the unit with high strength and durability in its use while still being easy to reposition if need be. The clothes rack and two storage rails provide twice the storage space in one unit.
The clothing racks are built at different heights which provides a couple of added benefits. The taller back rail lets you hang longer items on such as coats, dresses, and even unfolded trousers or jeans. The height difference also prevents the clothes and hangers on each rail from muddling together, keeping the two sets of items neat and easy to access. Stoppers on the rail bars prevent items on the ends from slipping down the stylish curved edges. The bottom shelf offers extra storage space, perfect for storing shoes, boots, and bags. Assembling this unit is straightforward using the instructions provided.
clothes rail type
Double Rails,Clothes Racks
colour finish
Black
height
1500mm
material
Iron
sizes
4ft
width
1150mm
You may also like
Related Products

Recently Viewed