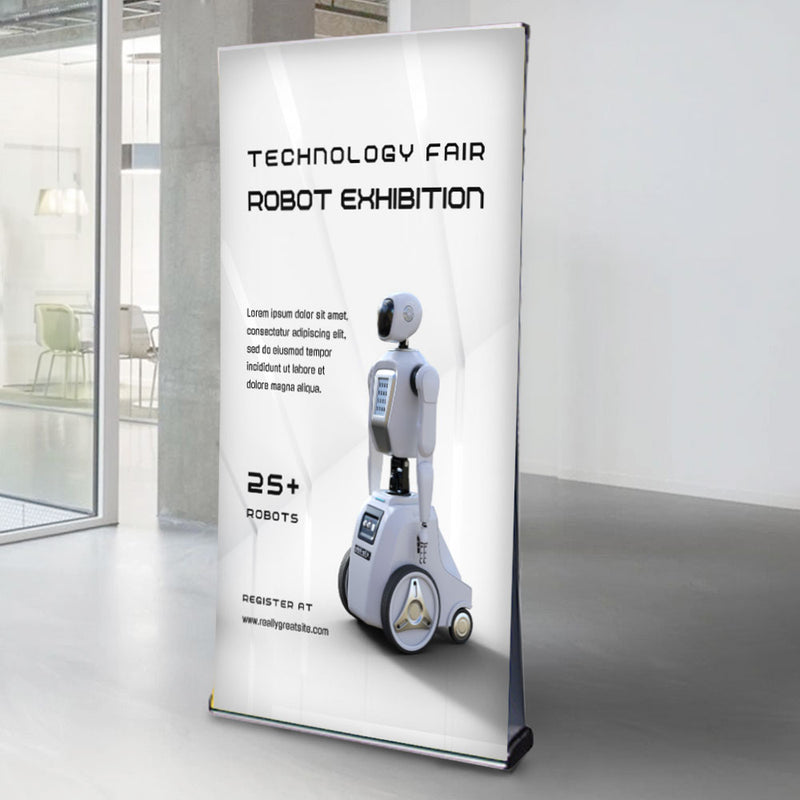 Premium Double Sided Aluminium Front Loading Roller Banner Stand for 2100mm High x 1200mm Wide Banners
ARTWORK PRINTING AVAILABLE
In Stock
£219.00
£182.50
(Inc VAT)
(Exc VAT)
---
Delivery Only £7.50 ex.VAT & FREE on orders over £125.00 ex.VAT*
28 day hassle free returns available on all of our products
Request Bulk Quote
Dimensions:

Height: 2200mm Width: 1260mm Depth: 200mm


Features


Front loaded graphic for maximum brand visibility


Custom printing service on 2 x banner vinyl (Graphic size: H 2100mm x W 1200mm)


Double sided graphics for optimum viewing impact


Less visible cassette enhancing the overall aesthetics


High-spec pole with easy double attachment


Perfect for exhibitions, retail spaces, events, and high-footfall areas


Introducing our Premium Double Sided Aluminium Front Loading Roller Banner Stand, the ultimate solution for impactful brand display. Crafted with twice the visible area than standard banners, it's tailored for those who want to make a statement in high-footfall areas. The banner stand boasts a front-loaded graphic which ensures your branding is in the limelight, creating a high impact view, especially ideal for exhibitions, retail environments, event spaces, and other public venues.
What sets it apart is its unique design that features a less visible cassette, combined with a high-spec pole having an easy double attachment, ensuring stability and prominence. The package offers custom printing service on 2 x banner vinyl, sized H 2100mm x W 1200mm. If you're looking to maximize your branding impact, this is the choice for you. For those in need of both hardware and banner printing, simply search for TWRB1000G for a comprehensive package.
depth
200mm
height
2200mm
material
Aluminium
type
Banner Stand
width
1260mm
You may also like
Related Products

Recently Viewed