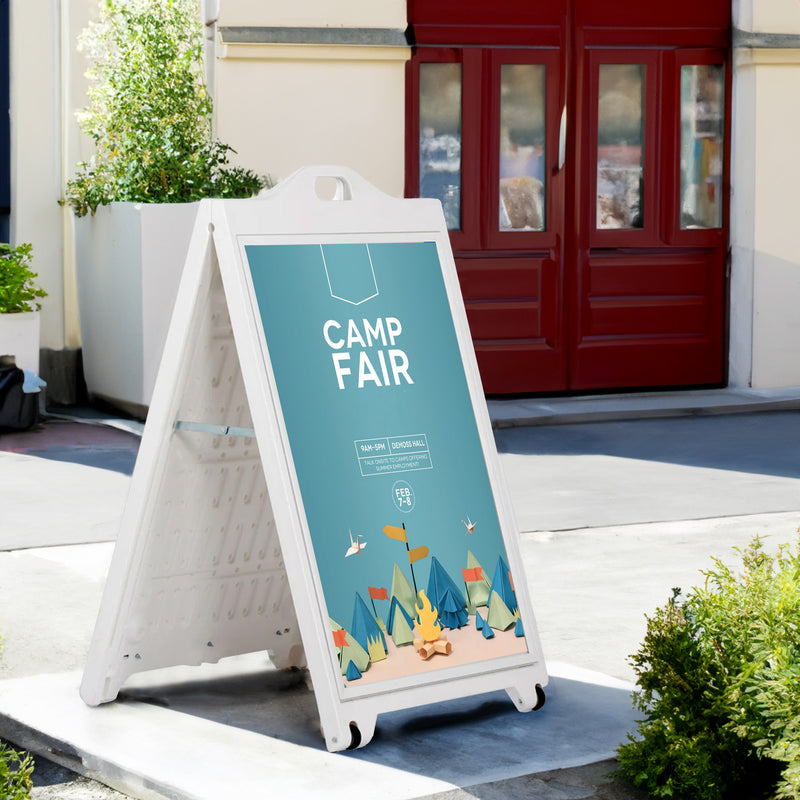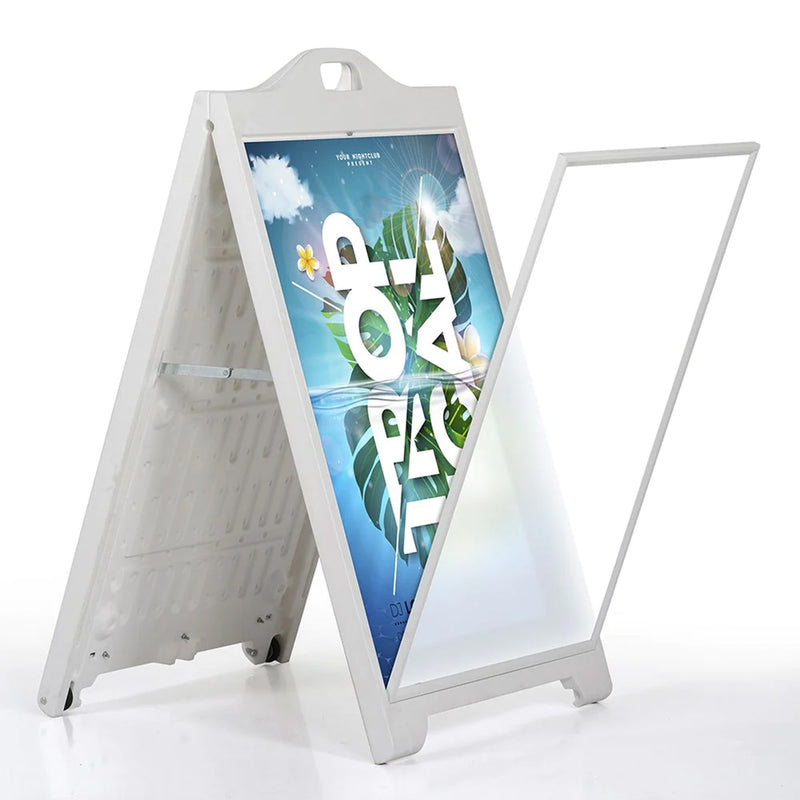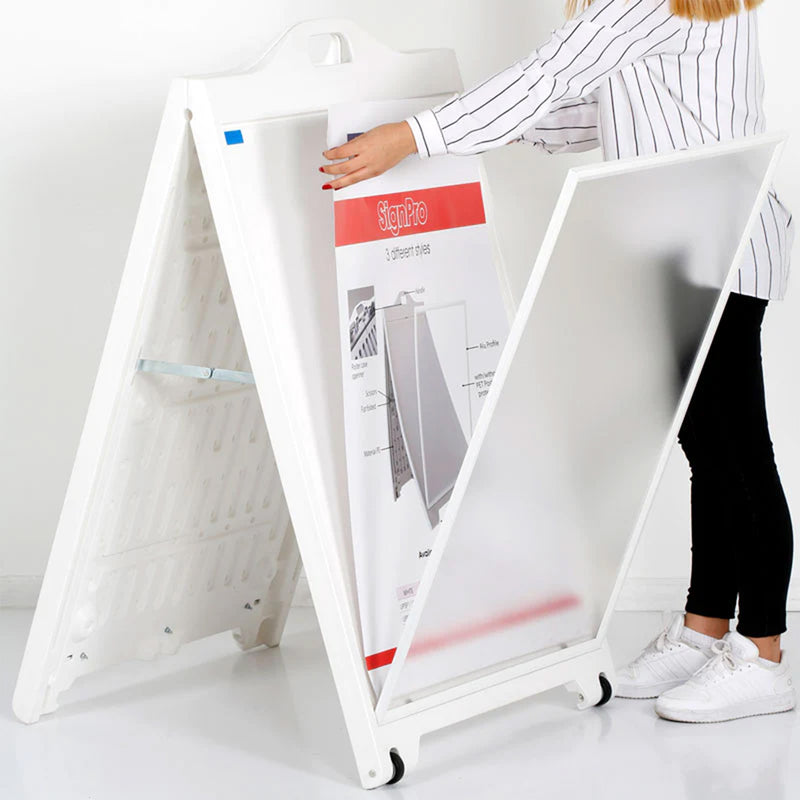 A1 White Weather Resistant A-Board Poster Display Pavement Sign Double Sided Heavy Duty
ARTWORK PRINTING AVAILABLE
In Stock
£155.00
£129.17
(Inc VAT)
(Exc VAT)
---
Delivery Only £7.50 ex.VAT & FREE on orders over £125.00 ex.VAT*
Delivery estimated 3-5 working days at point of artwork approval
Request Bulk Quote
Dimensions:
Height: 1135mm
Width: 690mm
Depth: 735mm
Fits A1 Posters: 594mm x 841mm
Total Area size: 594mm x 900mm

Features:
Dual-Sided Promotion: Our white A1 pavement sign A-board showcases your content on both sides, maximizing exposure and ensuring your message reaches pedestrians from all directions.
Weather-Resistant Frame: Designed for durability, the frame is constructed from high-grade plastic, allowing for use outdoors without concerns of corrosion, making it a reliable choice among A-boards A1 pavement signs.
Advanced Literature Protection: The protective PET covers shield your posters from UV light and daily wear and tear, maintaining their clarity and vibrancy.
Optimal Outdoor Use: For those intending to utilize the sign extensively outdoors or in extreme weather conditions, we recommend laminating the literature for added protection.
Easy Mobility & Storage: The built-in handle combined with front wheels ensures easy transportation, while its foldable design offers convenient storage solutions.
Comprehensive Printing Service: Elevate your display with our specialized printing service. We craft custom posters tailored to fit this A1 pavement sign, guaranteeing an impeccable match and professional look.


This white double-sided A1 poster display pavement sign is perfect for informing customers and members of the public of products, services, and promotions that you can offer. Manufactured from high-quality plastic, the A board frame is durable and suited for use outdoors during business hours, but also works brilliantly indoors. For extensive use outdoors and in adverse weather conditions, we recommend laminating the literature. To protect the inserted literature from wear and tear, the A board features PET transparent front covers. Being double-sided, you are able to display two different designs or the same one twice with it being seen by pedestrians going in both directions. When not in use, the pavement sign folds away for more convenient storage, additionally when moving the display, the A-board is lightweight and has a built-in handle and front wheels for easy transportation.
Looking to get artwork made to put in your literature display product? we offer a comprehensive online printing service. For full details check out our printing service page.
How it work
1. Either purchase your product and print cart add-on at the same time or purchase the print product as a standalone from our printing range . Once your order is placed, we will send you an email with clear instructions of the requirements for the artwork.
2. Read the artwork guide PDF to ensure all required criteria is met in order to be approved for printing. Artwork will be need to be approved for printing. (We can provide a design service at an additional cost based on quotation. Email help@displaysense.co.uk for design enquiries)
3. Reply to our email with your artwork. Once approved your document will be sent to print. After submission of your artwork, printing of your design and subsequent shipping to your address will be estimated between 3-5 workings days from approval point.
colour finish
White
height
1135mm
material
Plastic
paper size
A1
sizes
A1
type
A Boards
width
690mm
You may also like
Related Products

Recently Viewed