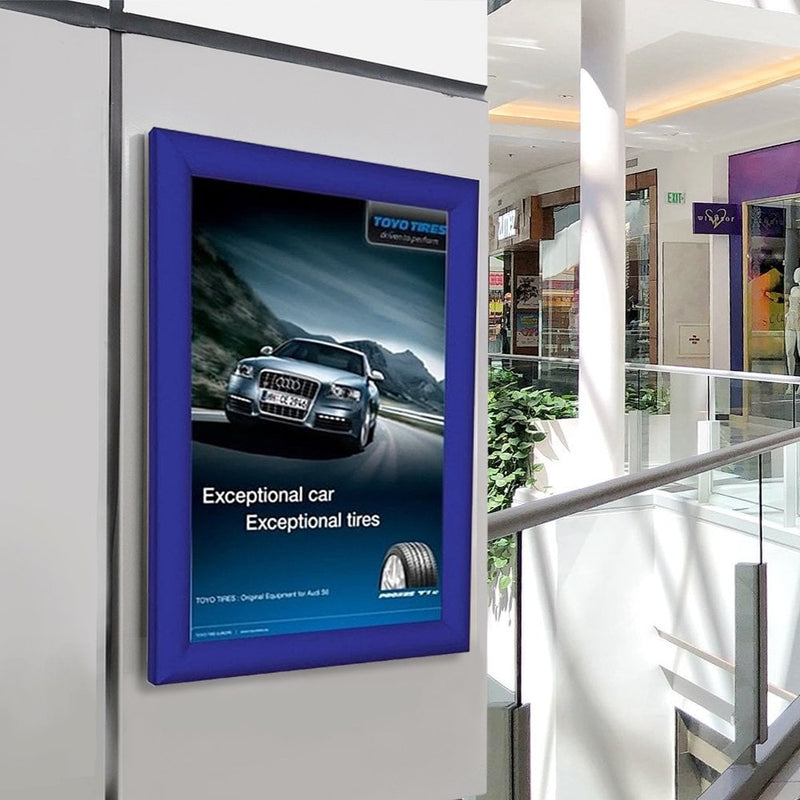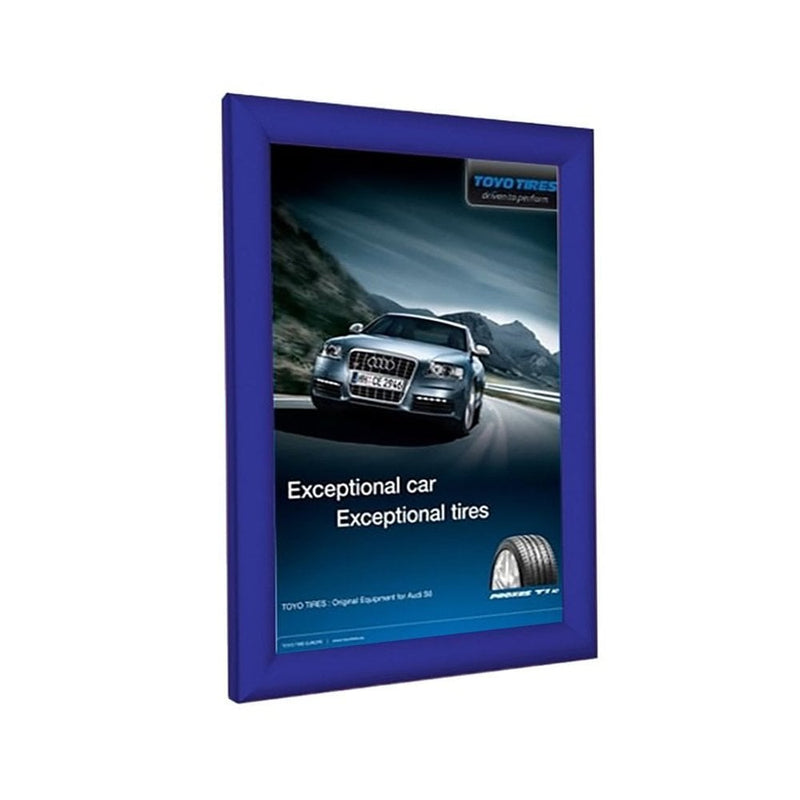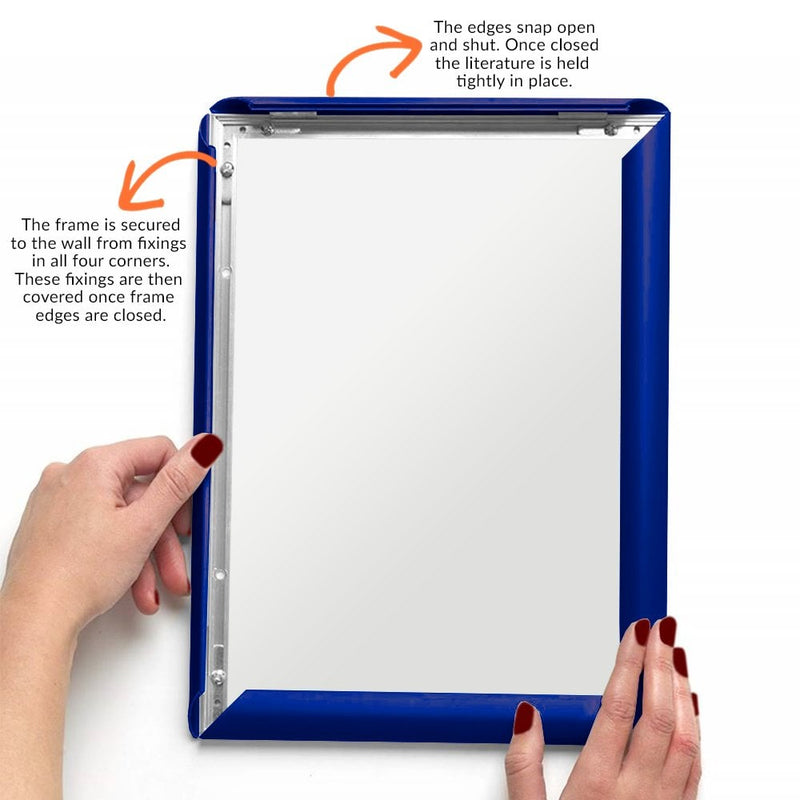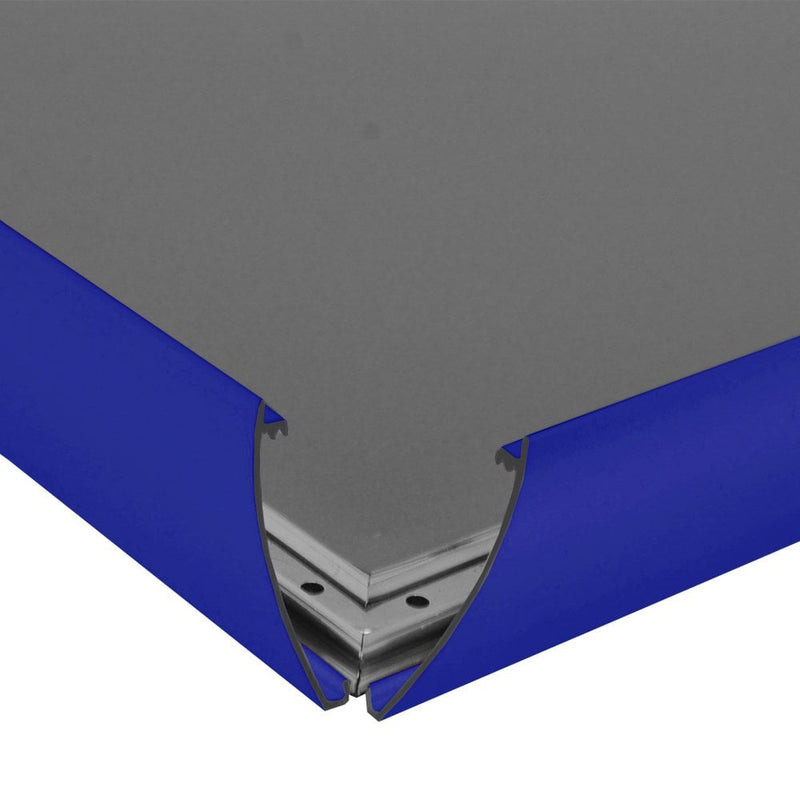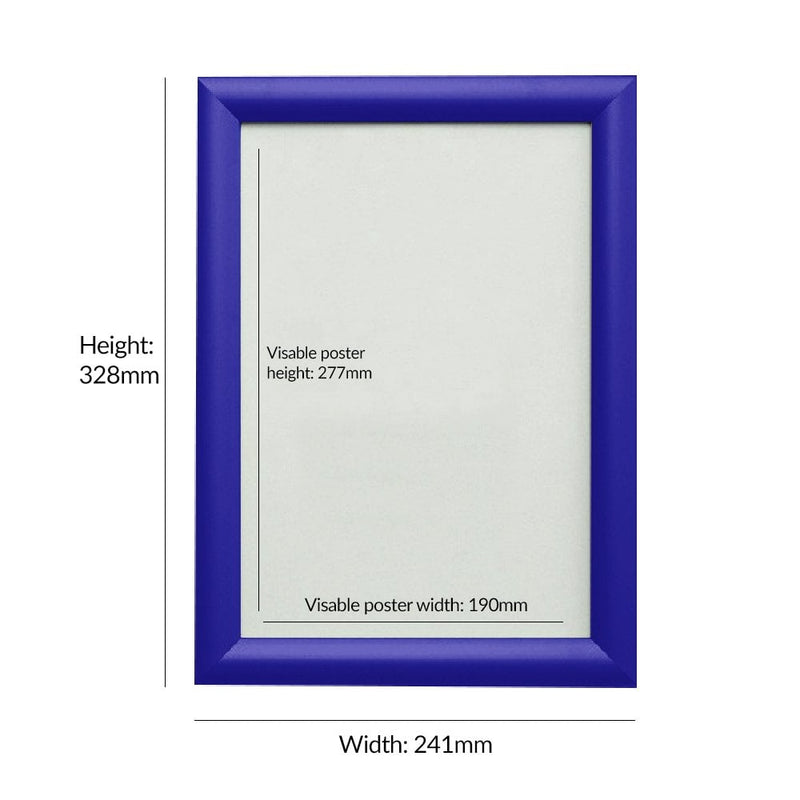 A4 Blue Poster Snap Frame 25mm Mitred Frame With Wall Fixings
ARTWORK PRINTING AVAILABLE
Save £1.67
Save £2.00
In Stock
£3.00
£5.00
(Inc VAT)
£2.50
£4.17
(Exc VAT)
---
Delivery Only £7.50 ex.VAT & FREE on orders over £125.00 ex.VAT*
Delivery estimated 3-5 working days at point of artwork approval
Request Bulk Quote
Dimensions:
Poster Size: 210 x 297mm (A4)
Visible Size: 190 x 277mm
Overall Size: 241 x 328 x 11mm
Frame: 25mm mitred corners

Features:
Quick-Change System: Front-loading 'Snap Open, Snap Shut' feature allows for swift changes of displays without removing the A4 snap frame from the wall
Elegant Blue Profile: 25mm thick anodised A4 blue frame adds a professional touch to any setting
UV Protection: Comes with an anti-glare, UV resistant cover that protects posters from sun damage, maintaining clarity and vibrancy
Flexible Orientation: The versatility to display literature in either portrait or landscape, catering to different design and space needs
Ready to Install: All necessary wall fixings are supplied, ensuring a hassle-free installation of the A4 snap poster frames
Durable Material: Crafted from high-quality anodised aluminium, ensuring longevity and maintaining the pristine condition of your snap lock frames
Ideal for presenting menus, posters, and various informational literature, our A4 snap frame features a striking blue finish that captures attention. The innovative 'Snap Open, Snap Shut' system provides ultimate convenience, allowing quick and effortless updating of your displays without detaching the frame from the wall – perfect for busy environments where time is of the essence.
Constructed with an elegant 25mm thick, anodised aluminium frame, this product blends durability with style, suitable for any professional setting. Whether it's for a restaurant, exhibition, or office space, the versatility of these A4 snap lock frames is unmatched. Designed to hold A4-sized literature, the frames can be oriented to suit portrait or landscape formats, providing flexibility for all your display needs.
Your posters will remain vivid and legible even in areas exposed to sunlight, thanks to the anti-glare, UV resistant cover that accompanies each frame. Installation is straightforward with the wall fixings supplied, making it simple to integrate these poster snap frames into your space. Upgrade your display strategy with our A4 snap poster frames, where functionality meets visual appeal for the most effective indoor communication.
Looking to get artwork made to put in your literature display product? we offer a comprehensive online printing service. For full details check out our printing service page.
How it work
1. Either purchase your product and print cart add-on at the same time or purchase the print product as a standalone from our printing range . Once your order is placed, we will send you an email with clear instructions of the requirements for the artwork.
2. Read the artwork guide PDF to ensure all required criteria is met in order to be approved for printing. Artwork will be need to be approved for printing. (We can provide a design service at an additional cost based on quotation. Email help@displaysense.co.uk for design enquiries)
3. Reply to our email with your artwork. Once approved your document will be sent to print. After submission of your artwork, printing of your design and subsequent shipping to your address will be estimated between 3-5 workings days from approval point.
colour finish
Blue
height
297mm
material
Aluminium
paper size
A4
sizes
A4
width
210mm
You may also like
Related Products

Recently Viewed